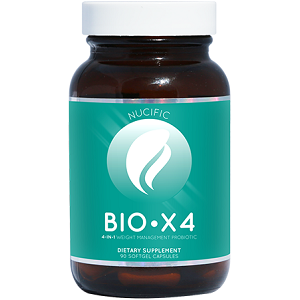 Nucific BIO X4 - Does It Work?-Review
What is Nucific BIO X4?
This review examines Nucific BIO X4, a probiotic which is designed to be a 4 in 1 for weight loss by controlling your cravings, boosting your metabolism, getting energy and nutrients, and feeling more confident without feeling bloated after eating.  Aimed at helping individuals lose weight by providing better digestive support, this product promises to help you feel better and achieve the results you hope for.
Ingredients & How It Works
Probiotic Blend - 4 Billion CFU/Capsule (L. Acidophilus, L. Rhamnosus, L. Plantarum)

Bifidobacterium Blend (B. Lactis, B. Animalis)

Digestive Enzyme Blend - 43 mg (Amylase (from Aspergilus Oryzae); Bromelain; Lipase (from Rhizopus Oryzae)

Weight Management Blend - 100 mg (Green Tea Extract (50% EGCG)

Craving Control Blend - 166 mg Slimaluma (Caralluma Fimbriata Extract)
Secondary Ingredients
Vegetable Cellulose (capsule)

Microcrystalline Cellulose

Stearic Acid

Silica
This product is made up of pure ingredients and has no lactose, fillers, and is vegetarian. Probiotics are bacteria which help balance a person's gut; EGCG can be found in green tea and helps the body burn fat; digestive enzymes help break down the foods for the body to absorb.
Perhaps most importantly, the bottle label does not state whether the Caralluma Fimbriata comes from the whole plant which is highly preferable.  If manufactured in a laboratory, Caralluma Fimbriata is known to be less effective for weight loss.  Moreover, the recommended daily dosage of Caralluma Fimbriata is 1600 mg/day, and BIO X4 has 166 mg in each capsule.  Even with 3 capsules a day, the minimum requirement still falls way short to achieve optimum results.
Daily Serving
The recommended dosage according to the manufacturer is to take one capsule with each meal for a total of 3 capsules daily. Individuals with medical conditions and taking medications should consult with their healthcare professional before using this product.
The Cost
The manufacturer sells BIO X4 for $99/bottle which is a 1-month supply since there are 90 softgel capsules in each bottle.  Three bottles (90 day supply) costs $261.36 for a saving of 12% and six bottles (180 days supply) costs $487.08 for a total saving of 18%.  The price point for this product is admittedly quite high, but the manufacturer offers free shipping on orders over $50.  Third-party websites sell a bottle for $57.00 plus shipping costs.
Guarantee
The manufacturer offers an unconditional 90-day money back guarantee with what they say is no questions asked. The nature of the guarantee, however, is rather unspecific.  It states to send the product back and that 100% refunds will be issued, but they do not specify if the refund will be issued on unopened bottles only.  Customers complain that the manufacturer requires that empty bottles be sent back to receive a full refund which is not otherwise stated on their website.
Unfortunately, the manufacturer admits that most people will not begin to see results until after using the product for 60 days, so the 90-day money back guarantee is not as generous of a time frame as the manufacturer could have offered if standing behind its product.
Our Review Summary of Nucific BIO X4
This probiotic blend made in the USA, designed to help with weight loss goals, has the essential ingredients needed to lose weight, but not in the right quantity or with pure extracts.  While the manufacturer's website is packed with positive reviews, third-party website reviews list many unsatisfied customers who share that BIO X4 caused gas, bloating diarrhea and cramping and that the green tea was a simulant keeping them up at night. But the majority of complaints were about the product being expensive and ineffective and therefore not worth the bother or hassle given the number of competitive products on the market with great customer reviews at lower costs.
Well researched reviews, from the experts at Research & You.