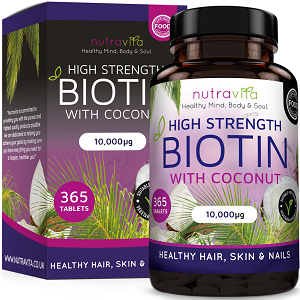 Nutra Vita High Strength Biotin With Coconut - Does It Work?-Review
What is Nutra Vita High Strength Biotin With Coconut?
This is a review of a product called Nutra Vita High Strength Biotin With Coconut Oil. This supplement claims to promote strong and shiny hair as well as increase the strength of nails and skin. In this review, we shall assess if this product is the optimal biotin supplement available on the market as we examine everything from concentration to customer support.
Ingredients & How It Works
Biotin, otherwise known as vitamin H, is a water-soluble B vitamin that is thought to offer a variety of health benefits. From the cosmetic appearance of stronger hair, skin, and nails; this vitamin has a range of internal benefits. These include reduced inflammation, increased cognitive function, as well as regulated blood sugar and cholesterol. This products key active ingredient is 10,000 mcg of biotin combined with coconut oil. This product is vegan-friendly, gluten-free, and responsibly sourced; which is positive to note. Furthermore, these supplements were produced in a cGMP certified facility which gives customers peace of mind that this product was produced with market-standard quality procedures. However, this certification alone is not enough to confirm product efficacy.
Daily Serving
To use Nutra Vita High Strength Biotin, take 1 tablet daily - preferably with a meal. This tablet can be taken at any time of the day. The concentration of the active ingredient is in line with the market standard which sits at 10,000 mcg. Pregnant and nursing mothers, as well as those taking medications, should consult a doctor before use. This product is not intended for people under the age of 18 and should be discontinued if you experience any adverse side effects. There have been minor side effects known to result from the use of biotin; including nausea, cramping, and diarrhea. However, these effects are usually avoided when taking this supplement with a proper meal.
The Cost
This product can be bought directly from the Nutra Vita website. A bottle of 365 tablets (a years supply) retails for $31,88 (£24.99). There appear to be no sample size options available. Although this product may seem affordable, it is unavailable for purchase on both the manufacturer's website as well as Amazon. We are uncertain when, or if, it will come back in stock.
Guarantee
The manufacturer offers a 100% guarantee, however, they provide no information as to the time period or details involved in returning a tested product that the customer may not have been happy with. This vague policy is a concern and does not offer much customer support. Furthermore, there have been some negative customer reviews claiming that this product was ineffective, especially when it came to promoting hair growth.
Our Review Summary Of Nutra Vita High Strength Biotin With Coconut
Nutra Vita High Strength Biotin With Coconut contains an accurate concentration of biotin in its product, which was also produced in a GMP certified facility. While the 365-tablet bottle offers great value, it is unavailable for purchase online. Furthermore, there is no sample pack available for curious customers wanting to test product efficacy before committing. This is especially concerning considering that the manufacturer's guarantee is vague and that there are many negative customer reviews.
Well researched reviews, from the experts at Research & You.