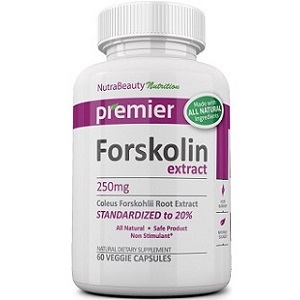 NutraBeauty Nutrition's Premier Forskolin - Does It Work?-Review
What is NutraBeauty Nutrition's Premier Forskolin?
This review looks at the dietary supplement Premier Forskolin produced by NutraBeauty Nutrition.  Forskolin is made from the root extract of the herbal Indian Coleus plant, originating from the mint family. They claim that Forskolin aids in breaking down and burning stored fat cells and promotes weight loss by boosting the body's metabolism. They say it releases fatty acids which result in body fat loss and increases in the body's lean mass. Forskolin Extract ingredients are entirely natural. The Pure Forskolin is industry regulated to 20%. It is naturally soured with no added flavors.
Ingredients & How It Works
Forskolin 250 mg
Coleus Forskohlii Extract Standardized 20%, 50 mg, Forskolin
Cellulose Vegetable Capsule
Rice Flour
Forskolin is taken from the root of a plant from the Plectranthus family. It has been used in traditional medicines and is said to be an assisting agent for weight loss.
Each serving has 250 mg Forskolin extract, which is double the quantity that a quality dietary supplement requires. Their Dietary Value is based on a diet of 2000 calories.
There are no artificial additives or ingredients and it is free of allergens.
Daily Serving
Take one Veggie capsule two times per day as a dietary supplement.
They recommend consuming the capsule 20 to 30 minutes prior to meals with a glass of water.
A doctor should be consulted beforehand if you are taking any medication, are pregnant or breastfeeding.
The manufacturers recommend combining Forskolin with Pure Garcinia Cambogia for better results.
The Cost
One bottle of 60 Veggie Capsules costs $9.95, which offers a savings of $20 if you buy off their website. They offer better prices for more purchases. If you buy four bottles you only pay $36.95, which is a $63 saving.
Guarantee
There is no stated manufacturer's guarantee, however, under their terms and conditions, they are willing to consider exchanges or money back if you email their Customer Care within 30-days of purchasing. Any shipping and handling costs would be for the consumer. We would have liked the manufacturer to be more open with their guarantees and not hide it that consumers have to search.  
At the time of writing the review, there were no customer reviews which is concerning.
Our Review Summary Of NutraBeauty Nutrition's Premier Forskolin
Forskolin Extract has high quality, completely natural ingredients which are GMP Certified and its products' purity and integrity have been third-party tested. Its ingredients are few but all that is required with a high dosage of forskolin. Other leading brands provide a higher serving in one capsule. NutraBeauty Nutrition offers good savings if you buy in bulk. We would have preferred the manufacturers to be more open about guarantees. We would have liked to see what customers have to say about the product.
Well researched reviews, from the experts at Research & You.