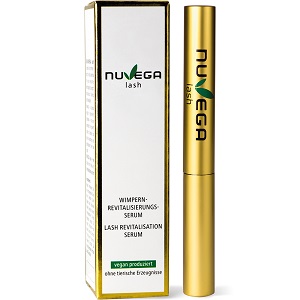 Nutracosmetic Nuvega Lash - Does It Work?-Review
What is Nutracosmetic Nuvega Lash?
The review below focuses on the product Nuvega Lash, manufactured by the German company Nutracosmetic. The company claims that this is a completely vegan serum conditioner for both eyelashes and eyebrows. Also, this product can make eyelashes longer as well as stronger so that they do not break or fall out too readily. Continue reading this review to learn more about this serum.
Ingredients & How It Works
Pentylene glycol
Butylene glycol
Glycerine
Dextran
Phenethyl alcohol
Caprylyl glycol
Xanthan gum
Acetyl tetrapeptide-3
The substances pentylene glycol and butylene glycol are both synthetic elements. Butylene glycol acts as a thickener, whereas pentylene glycol is a humectant. Butylene glycol should increase the volume of the lashes, while pentylene glycol could encourage moisture retention. However, this ingredient is linked to safety issues. It has even been classified as hazardous in that it can lead to rashes and cause irritation. The other ingredient, phenethyl alcohol, a preservative, is also linked to negative reactions. Aside from the former ingredients that offer safety concerns, the ingredient glycerin is recognized as controlling the skin's moisture balance. Acetyl tetrapeptide-3, an essential amino acid, helps to bond the remaining hair follicles while promoting regrowth. Xanthan gum, a thickening agent, could help to enhance volume. This product's formula lacks any clinically proven patented ingredients. Products that are known to be effective contain at least five clinically proven patented ingredients.
Instructions
The instructions on how to apply this product are not clearly stated by the manufacturer. Potential clients should have access to this type of information before they buy, deciding whether it will work within their lifestyles.
The Cost
This product is not easily obtainable online, unless through third-party sites such as Amazon, this serum costing $89.99. No discounts are offered. The manufacturer offers no bulk discounts to consumers which would not only have saved money but would have rewarded loyal consumers.
Guarantee
Despite our research, no guarantee was found. This may imply that this product is ineffective, making the claims of the manufacturer untrue.
Our Review Summary Of Nuvega Lash
The product Nuvega Lash at first sight appears to be useful. This product includes ingredients that could be beneficial; and they are vegan-friendly. However, the product lacks a manufacturer's guarantee which could protect the consumer; and there are no package deals with discounts which could help to save money over a long period. Also, there are no patented, clinically proven ingredients used in the product's formula which would have confirmed this product as effective. Many of the ingredients found in these products are not natural ingredients but systemic. It is with that, and since there are so many similar products on the market at the moment that offer the consumer much better-quality ingredients that are clinically proven to be effective, backed by a firm guarantee that is focused on protecting the consumer, and very attractive package deals that are made even more attractive with decent discounts. However, this product simply compares weaker than the best that is on the market.
Well researched reviews, from the experts at Research & You.