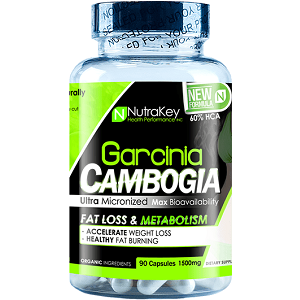 Nutrakey Garcinia Cambogia - Does It Work?-Review
What Is Nutrakey Garcinia Cambogia?
The following review is for a product called Nutrakey Garcinia Cambogia, which consists of organic ingredients. The manufacturer claims that this product may help those in need to lose weight quickly, safely and naturally, without side effects. The HCA (Hydroxycitric Acid) extract may assist to control the appetite, thus leading to a lesser intake of calories which might result in weight loss. The manufacturer also claims that pure Garcinia Cambogia (HCA) is able to help block new fat cells from forming when you eat sugars and carbohydrates.
Ingredients And How It Works
Main Ingredient:

Garcinia Cambogia Extract (1500 mg concentrated at 60%)

Garcinia cambogia extracts derived from a hydroxycitric acid (HCA) and may be a safe, natural supplement for weight management. HCA is a competitive inhibitor of a key enzyme which facilitates the synthesis of fatty acids, cholesterol, and triglycerides. However, with an HCA concentration of only 60%, we are certainly worried about whether the product can compete against other leading brands which use a clinically proven effective 95% HCA concentration.

Other Ingredients:
Gelatin
Gelatin is derived from animals and not eco-friendly. We also see that no calcium is added in the ingredients to aid absorption of the extract, and this could stunt the performance of the supplement.
Daily Serving
Take 3 capsules (1500 mg concentrated at 60%) with a glass of water or juice on an empty stomach twice daily. Take first serving 30 minutes prior to breakfast and the second serving 30 minutes prior to lunch. According to our scientific research, this is an overdose of only 1600 mg per day is required for the ingredients to be effective.
The Cost
$14.99 for a container of 90 capsules sold on manufacturer's website, third-party online retailers as well as retailing stores.
Guarantee
In our research of Nutrakey Garcinia Cambogia, we have found that the manufacturer offers a 100% 90-day money-back guarantee on all products purchased through their website. If the consumer is not satisfied with the purchase for whatever reason, it may be returned, if the product is at least 75% full, for a full refund of the purchase price, or could exchange it for a product of equal or lesser value. This pales in comparison to other leading brands which offer a 365-day window where unhappy customers may return their products for a full refund.
Our Review Summary Of Nutrakey Garcinia Cambogia
In this review of Nutrakey Garcinia Cambogia, we have found that there are some positive reviews about the product, which indicates that the product might work for some consumers. We find that there is an online shipment tracking, which is useful for customers. Nevertheless, have we also found some bad reviews of consumers not losing weight and the fact that there is only a 60% concentration of Garcinia Cambogia (HCA Extract) in the blend makes us question its potency. The lack of substantial guarantee window is another reason why we urge anyone to consider alternatives should they be looking for a dietary supplement which contains Garcinia Cambogia.
Well researched reviews, from the experts at Research & You.