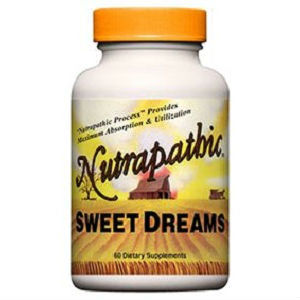 Nutrapathic Sweet Dreams - Does It Work?-Review
What is Nutrapathic Sweet Dreams?
In this review, we will focus on a supplement called Nutrapathic Sweet Dreams. Certain people struggle with insomnia or have trouble falling asleep. Consequently, the manufacturer has developed a product that can help encourage healthy restful sleep the natural way and restore the natural sleep cycle. To find out what ingredients are used in Nutrapathic Sweet Dreams and the benefits that are provided, ready our informative review below.
Ingredients & How It Works
Vitamin C
Niacin
Vitamin B6
Calcium
Magnesium
Zinc
Proprietary Blend:
Ashwagandha (root)
L-Glutamic Acid HCL
Wild Lettuce (leaf)
Brain Substance (porcine)
L-Taurine
Whey
Soy Protein
Barley Grass
Bromelain (pineapple)
Pepsin
Long Pepper
Nutrapathic Sweet Dreams claims that these ingredients will help you sleep and also nourish the brain. It also claims that the herbs in this supplement such as wild lettuce, long pepper, and ashwagandha can also help promote and encourage sleep. However, based on our research, the product is still lacking pure forms of ingredients in specific quantities. Thus, not in a proprietary blend, however, standing alone. These include melatonin, valerian, hops, and taurine. In addition to this, the product also fails to contain L-ornithine which is an effective ingredient in insomnia supplements.
Daily Serving
Unfortunately, we were unable to find any evidence of the daily dosage. Without this information, the user will not know when and how the product should be taken. This may result in the product being used incorrectly and furthermore result in an ineffective supplement or even do damage to your body.
The Cost
The supplement is currently on back order on the manufacturer's website. An online purchase will provide a bottle of 60 capsules and will cost $15.00. There are no bundle deals made available. Despite this, the product is very cheap and may be a result of low-quality ingredients.
Guarantee
The manufacturer does not back their product with a money-back guarantee. First time customers will not be able to test the product and return it for a full refund if it does not provide the benefits the manufacturer states it should. As a result, you will be at financial risk when making a purchase. It may however also indicate that the manufacturer is not confident in their supplement's effectiveness.
Our Review Summary Of Nutrapathic Sweet Dreams
After this review, we found that Nutrapathic Sweet Dreams provides a few positive aspects. Customers will be satisfied to know that the capsules are easy to swallow.
There are however also a few negative aspects that we came across in this review. First of all, the price which is very low may indicate that the manufacturer has not used high quality ingredients and that the product is less effective in comparison with other brands. In addition to this, the product does not contain clinically proven ingredients. This may support the first drawback we have found. Also, the manufacturer fails to indicate how the supplement should be taken. Finally, the manufacturer fails to offer a money-back guarantee. This is another indication that the product may not be effective.
In conclusion, Nutrapathic Sweet Dreams does not seem to be a safe and effective option. You will be better off choosing an alternative dietary supplement - one with ingredients based on research and clinical studies and one with a rock solid guarantee.
Well researched reviews, from the experts at Research & You.