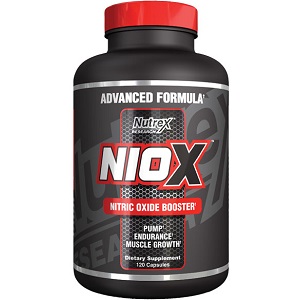 Nutrex NIOX - Does It Work?-Review
What is Nutrex NIOX?
This review is going to take a closer look at Nutrex Niox to see what this product has to offer. This product is an advanced Nitric Oxide boosting muscle and pump formula that will increase Nitric Oxide levels in your bloodstream. When combined with intense training, more blood, nutrients and oxygen will be pushed into your muscles. The manufacturer claims that their supplement will help boost nitric oxide for bigger muscle pumps. They also claim that their supplement will help shuttle more blood, nutrients and oxygen into working muscles, will create fuller and rounder muscles during exercise and will enhance your performance.
Ingredients & How It Works
This product contains NIOX Muscle & Pump Advanced Formula that contains L-Arginine Ethyl Ester, Glycerine, AgmaPure Agmatine Sulfate and Carnosyn Beta Alanine. Every capsule contains a 1000 mg serving. L-Arginine is an amino acid that is converted in the body into Nitric Oxide which causes blood vessels to open wider for a better blood flow. It also stimulates the release of the insulin and is attached to an Ester which is an organic compound that is formed by esterification. Agmatine Sulfate is a metabolite of L-Arginine.
Daily Serving
Nutrex Research recommends taking 2 liquid capsules with 10 oz of water a half an hour before breakfast and to repeat this dosage before dinner. On a training day, you should take one of your daily servings half an hour before working out. For optimal results, you should take this supplement every day.
This product is not meant for women who are pregnant or nursing.
The Cost
You can purchase Nutrex Niox directly from the manufacturer or from third-party retailers. One 120 capsule bottle costs $44.95 from the manufacturer's website. They offer the option to buy 2 bottles and get 1 free.
Guarantee
Nutrex offers a thirty-day money-back guarantee on unused products. They offer a 15-day money back guarantee on opened bottles.
Our Review Summary Of Nutrex NIOX
This product appears to be a decent supplement that can potentially help increase your levels of Nitric Oxide. It comes in easy to take capsules and is backed by a manufacturer's guarantee. However, the manufacturer's guarantee is weak and limited. They offer only fifteen days to obtain a refund on opened bottles. Fifteen days is not necessarily enough time to try a product and see results. Furthermore, Nutrex Niox is expensive relative to other Nitric Oxide supplements we have seen on the market. One bottle will last you only 30 days but the manager only offers one bulk purchasing option.
The consumer feedback we saw is mixed. Some consumers claimed that after some time they were able to feel some effects that they attribute to taking this supplement but many consumers reported that this supplement does not work and is a waste of money. They reported that after continuously taking this supplement as directed by the manufacturer, they did not see any results and were disheartened that they were unable to obtain a refund. Taking the expensive price, weak manufacturer's guarantee and mixed consumer feedback into consideration, you are probably better off purchasing a Nitric Oxide supplement that has positive consumer reviews and a strong manufacturer's guarantee for consumer protection.
Well researched reviews, from the experts at Research & You.