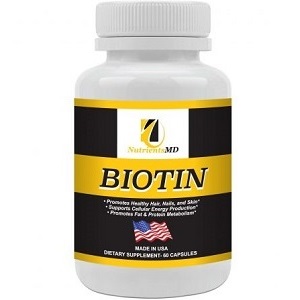 Nutrients MD Biotin - Does It Work?-Review
What is Nutrients MD Biotin?
This product review is on a supplement called Nutrients MD Biotin. The manufacturer of this product claims that this substance will support healthy hair, beautiful skin, strong nails, as well as promote energy production and nutrient metabolism. Although the benefits of biotin are vast, can this particular product be the best source of biotin available? From concentration to customer support, we will examine all aspects of this product to help you decide if this brand is worthy of your purchase.
Ingredients & How It Works
Biotin, as mentioned above, offers a range of cosmetic benefits such as thicker and longer hair, stronger nails, and clearer supple skin. This miracle vitamin is also known to support internal functioning such as energy production and nutrient metabolism, increase cognitive functioning, regulate cholesterol and blood sugar, and alleviate joint pain and inflammation. Biotin (often referred to as vitamin H) is a vitamin that can greatly improve the body's overall vitality. This particular brand of biotin supplement offers a concentration of 5000 mcg in a vegan capsule. However, there seems to be no information as to the nature of the manufacturing process or if it was produced according to cGMP regulation. This is a concern as it may indicate a lack of concern for quality processes.
Daily Serving
This product is intended for adults only (those over the age of 18 years). Those who are pregnant, nursing, or taking any other medications should consult a doctor before use. To use as a dietary supplement, take 1 capsule daily. This supplement administration should be done preferably with a meal as this may reduce the potential side effects; discontinue use if any adverse side effects occur. The concentration of this product sits at 5000 mcg, which is half the dosage offered by leading brands on the market which sit at 10,000 mcg. This is likely to inhibit this product's efficacy, especially when compared to other brands.
The Cost
This product can usually be bought from the manufacturer's website, however, it is currently out of stock. We are uncertain when, or if, it will be available again. A bottle of 60 capsules, which would last 2 months, normally retails for $9,00. While this may seem affordable, the poor concentration of this product may require it to be used for longer to achieve any real results. The lack of bulk offers increases the cost of the sustained use of this product. There is no 'test' pack available which is a concern as curious customers will have to invest in a whole bottle which they may not even like.
Guarantee
The manufacturer, Nutrients MD, offers a 15-day period for products to be returned for a refund. To may this guarantee even more dismal, this offer is not extended to opened to products which prevent customers from testing the efficacy for themselves without forfeiting their refund. This doesn't bode well for the manufacturer's confidence in the product's efficacy. Furthermore, there are too few customer reviews available online for us to determine if the manufacturer's claims are, in fact, being fulfilled by the product.
Our Review Summary Of Nutrients MD Biotin
While this product may be affordable, that is about the only positive aspect of it. This product has a concentration half that of leading brands on the market, was not produced in a GMP certified facility, and is not available in a test pack. The manufacturer offers a limited guarantee that prevents customers from testing their product without forfeiting their refund. Whatsmore, there are too few customer reviews to substantiate claims of efficacy. For these reasons, we do not recommend Nutrients MD Biotin as a wise biotin purchase choice. 
Well researched reviews, from the experts at Research & You.