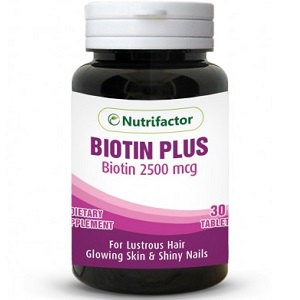 Nutrifactor Biotin Plus - Does It Work?-Review
What is Nutrifactor Biotin Plus?
Nutrifactor Biotin Plus is a product specifically designed to deliver a type of B vitamin to its customers that has been implicated in its role in hair growth, nail growth and healthy skin. The manufacturer mentions that it also plays a role in the metabolism of fatty acids and in the health of immune cells but the research on this is a bit less conclusive. Our review takes a close look at the product to determine whether it is the best option for customers to choose when they are looking for biotin supplements.
Ingredients & How It Works
The only active ingredient in this product vitamin B7, commonly known as biotin. The way vitamins like this one work is that they form part of the complex chemical structure of proteins. Proteins are responsible for conducting certain chemical reactions in the cell and also for providing structural integrity. Biotin features in both of these but it is well known for its role in supporting the structure of keratin, a protein which holds the skin and hair together and makes the tissue strong. Scientific research has shown that people who take biotin as a daily supplement have quantifiable improvement in the length of their hair and the structural quality of it.
Daily Serving
After having a meal, customers can take one tablet with water. Each capsule contains 2500 micrograms of biotin. Other products offer up to 10000 micrograms per capsule. When using this product customers can take more than one capsule but then it will be used up more quickly.
The Cost
At the time that this review is written, Nutrifactor Biotin Plus is available for $10.70, when bought online from the manufacturer. This price does not include delivery or taxes. The manufacturer does have other pricing options where customers can purchase two bottles together for a total price of $19.97. Three bottles brought together will cost $29.96.
Guarantee
We could not find any evidence of a guarantee or returns policy from this manufacturer. We believe it is absolutely crucial for manufacturers to be upfront and clear about their guarantee or lack thereof. Manufacturers who don't offer a guarantee do express a decreased level of confidence in their product and shift the risk of the product not being effective to the customer who then loses money.
Our Review Summary Of Nutrifactor Biotin Plus
The cost of Nutrifactor Biotin Plus is affordable and the manufacturer offers discounts for customers who wish to purchase larger supplies.
The problem with this supplement is that it contains a fairly low dose of biotin compared to some leading manufacturers and it does not come with a satisfaction guarantee so customers are at risk of wasting money on a product that might not work for them. It is more advisable for customers to seek out biotin products that offer the highest dosage available and come with a satisfaction guarantee. Customer should not compromise and they should still find a manufacturer that offers discounts and a pure source of biotin.
Well researched reviews, from the experts at Research & You.