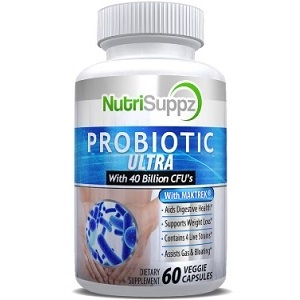 NutriSuppz Probiotic Ultra - Does It Work?-Review
What is NutriSuppz Probiotic Ultra?
In this review, we analyze NutriSuppz Probiotic Ultra. The manufacturer of this product states that it is designed to bring about the effective relief of symptoms associated with Irritable Bowel Syndrome (IBS) in an efficient manner. The information outlined below will assess the product's ability to deliver on manufacturer claims and, in doing so, help you make a wiser consumer purchase.
Ingredients & How It Works
The main ingredient in this product is a Proprietary Blend of Probiotic Bacteria (40 billion CFU). This blend includes the following bacterial strains: Lactobacillus acidophilus, Bifidobacterium lactis, Lactobacillus plantarum, Lactobacillus paracasei, Marine polysaccharide complex, Fructooligosaccharide (FOS). The inclusion of these probiotics is positive to note. Each of them works to balance bacteria in the gut and reduce the damaging effects of bad bacteria. This may combat symptoms associated with IBS such as abdominal pain, bloating, gas, diarrhea, and constipation. That said, other ingredients may improve the formulas ability to deliver ideal IBS support. Many competitor products contain additional Vitamins and Minerals for enhanced results. Vitamin C, Zinc, and Calcium are a few nutrients that would increase this formulas effectiveness. Upon reviewing this product, we were concerned to note that the production process does not adhere to cGMP guidelines. These guidelines ensure that quality is a production priority and the lack of cGMP certification could indicate a lack of quality consideration.
Daily Serving
It is recommended that users take 1 capsule in the morning 30 minutes before a meal and 1 capsule in the evening 30 minutes before a meal. Each serving supplies 40 billion CFU of the Probiotic Blend. This is in line with many competitor products and may deliver beneficial results. That said, the lack of additional supportive ingredients hinders the dosages ability to provide optimal IBS support.
The Cost
The product cannot be purchased from the manufacturer. Potential customers will need to purchase the product online through Amazon. A bottle of 60 capsules (1 month supply) costs $13.95. This, at first glance, is an extremely affordable price. However, the fact that this product does not contain several ingredients found in competitor products is likely the reason for the low cost. Potential customers may find improved formulas at highly competitive prices. The manufacturer does not offer any package deals to entice prolonged use of this supplement.
Guarantee
The manufacturer claims to offer a 90-day money-back guarantee. This would usually inspire confidence, however, this specific policy is extremely vague and unclear. Proper return guidelines are not stipulated and only contact information is provided. The lack of clarity is likely an indication that the return process is unreliable. This does not bode well for product efficacy and suggests that the manufacturer is not entirely confident in the product's effectiveness. It is also disappointing to note that there are several negative customer reviews for this product. Customers have reported that the product induced many negative side effects. Diarrhea, pain, and illness are a few reported side effects and these completely contradict the product's intentions.
Our Review Summary Of NutriSuppz Probiotic Ultra
NutriSuppz Probiotic Ultra may seem like the ideal IBS support supplement. It contains many beneficial probiotic strains that are common to competitor products on the market. Furthermore, it is supported by a guarantee and is priced affordably. Howbeit, the guarantee is vague and unreliable. The price is accounting for the lack of many beneficial supportive ingredients. The product was not manufactured in a cGMP certified facility and negative customer reviews report that it causes severe side effects. These are a few of the main reasons why we cannot recommend this supplement as a wise purchase.
Well researched reviews, from the experts at Research & You.