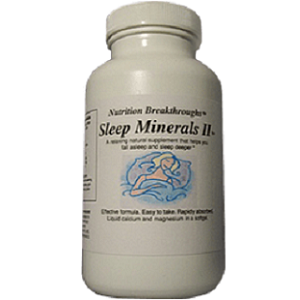 Nutrition Breakthroughs Sleep Minerals II - Does It Work?-Review
What is Nutrition Breakthroughs Sleep Minerals II?
In this review, we have analyzed Nutrition Breakthroughs Sleep Minerals II. This product is argued to be the most effective all-natural solution for insomnia. It is designed to improve sleep quality, promote calmness, and prevent restless leg syndrome. We have determined how effective this product is by looking at several contributing factors. The information outlined below will help you make an informed purchase decision.
Ingredients & How It Works
Calcium - 1000mg
Magnesium - 500mg
Vitamin D3 - 600iu
Zinc - 10mg
This formula contains three essential minerals for the prevention of insomnia. Magnesium, Calcium, and Zinc primarily work to combat nutritional deficiencies which negatively impact the body. Calcium supports the production of Melatonin, which is responsible for causing us to fall asleep. That said, the product does not directly contain Melatonin. Magnesium is used to activate mind-relaxing neurotransmitters. Zinc is known for its antidepressant properties. The supplementation of Vitamin D3 combats Vitamin D deficiencies known to cause depression. This is a quality formula, however, lacks many additional supportive ingredients. Melatonin, for example, is a powerful substance used in competitor products for its direct role in improving sleep quality. When looking for an optimal insomnia fighting supplement, you should consider one that includes Melatonin. It is positive to note that this product does not include artificial ingredients or fillers.
Daily Serving
The manufacturer clearly outlines how to use this product for best results. Users are advised to take one (1) softgel with water 30 to 45 minutes before sleep. Users should continue dosage for a minimum of two (2) weeks. From then, it is recommended that you up the dosage to 2 softgels per day. The manufacturer states that individuals may experience negative side effects such as nausea and drowsiness. In these cases, they recommend lowering your dosage. This dosage, unfortunately, does not supply sufficient quantities of the included ingredients. The formula only contains 10mg of Zinc which is substantially lower than the market standard of 50mg for best results. Furthermore, the formula lacks Melatonin - a key ingredient in insomnia supplements.
The Cost
The product is sold online from the manufacturer for $25.95. This is not substantially cheaper than alternatives on the market. Furthermore, there are no discounts or bulk-buy deals to encourage long-term use. Prolonged supplementation of this product could become an expensive venture.
Guarantee
Upon further research, we could not locate a manufacturer guarantee. Therefore, customers who are not satisfied with the product have no way of applying for a refund. This is very concerning as it suggests that the manufacturer is not certain of product efficacy. What raises further concerns is that several customers claim the product does not work. Many have reported that it failed to improve their sleep quality and that it induced negative side effects.
Our Review Summary Of Nutrition Breakthroughs Sleep Minerals II
This product may seem like an appealing choice. It contains many important ingredients for remedying insomnia. It also comes at a reasonable price. That said, there are many disadvantages to this supplement. It does not contain Melatonin, a key ingredient in other products on the market. It is not supported by a guarantee. And, customers have reported that it does not work as intended and induces unwanted side effects. For these reasons, we cannot recommend Nutrition Breakthroughs Sleep Minerals II. 
Well researched reviews, from the experts at Research & You.