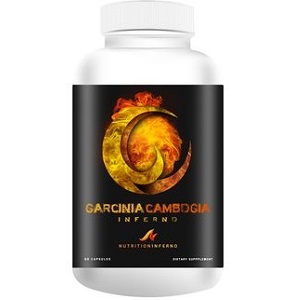 Nutrition Inferno's Garcinia Cambogia Inferno - Does It Work?-Review
What is Nutrition Inferno Garcinia Cambogia Inferno?
Garcinia Cambogia is said to be a fast acting weight loss supplement, one of many that have flooded the market. This version from Nutrition Inferno claims its formula balances serotonin levels, decreases emotional eating, and significantly promotes weight loss. These claims are not unique, however, and are shared by the many of its competitors' products. As such, telling apart the good quality weight loss supplements from the shoddier competition can be a difficult challenge. Customers tend to look out for a few key points when shopping for weight loss supplements. These include an all natural formula, transparency from the manufacturer, an affordable price with a money-back guarantee, and glowing customer reviews and endorsements. Does Garcinia Cambogia meet all of these requirements? Read our review of Nutrition Inferno's newest product below to find out more.
Ingredients & How It Works
Calcium - 50mg
Chromium - 200mcg
Potassium - 50mg
Garcinia Cambogia (fruit rinds) Extract (with 60% HCA) - 1000mg
The formula for Garcinia Cambogia is made to promote healthy weight loss and lean body mass. The appetite suppressant burns fat, and the HCA helps boost serotonin levels to improve mood and eliminate emotional eating.
Daily Serving
Nutrition Inferno recommends taking two capsules a day and warns customers not to exceed the recommended dosage. Pregnant or nursing women, children under 18 and individuals with preexisting medical conditions are advised to avoid Garcinia Cambogia until they consult a medical professional. Always ask a doctor before taking any weight loss supplements.
The Cost
This weight loss supplement is on Amazon. However, at the time of writing it was out of stock and, as such, the price was not shown. We note that the most recent Amazon customer review of this product was in August of 2013; it's not clear if this product is no longer in production.
Guarantee
Nutrition Inferno offers a 100% money-back guarantee, showing a high level of confidence in the effectiveness of its product. Details, such as how how long the guarantee is in place after purchase are not provided.
Our Review Summary of Garcinia Cambogia Inferno
Due to the large surplus of shoddy weight loss supplements on the market, it comes as no surprise that many customers are heavily suspicious of Nutrition Inferno's newest product. To its credit, however, there are many positive points to this weight loss supplement. The ingredients were all chosen in an attempt to maximize effectiveness and the money-back guarantee indicates a high level of confidence from the manufacturer. And, as it is on Amazon, customer reviews can be seen.
That being said, there are drawbacks. The guarantee is vague and doesn't explain how long it lasts. The customer reviews are mixed, with some praising the product while others have a less than excited reaction. The biggest problem, however, is the fact that the product isn't even being sold right now. The Amazon page seems to imply that there was always a limited supply, with no indication of when, or if, sales will resume. With the future of the product in question, customers will want to look elsewhere for a weight loss supplement.
Well researched reviews, from the experts at Research & You.