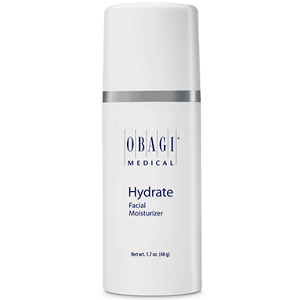 Obagi Hydrate Facial Moisturizer - Does It Work?-Review
What is Obagi Hydrate Facial Moisturizer?
Moisturizing the skin is one of the most important ways to keep it healthy and protect it from damage that could otherwise cause it to age faster than it should. Obagi Hydrate Facial Moisturizer is a skin moisturizing product that contains some naturally derived ingredients that are hypoallergenic and do not cause irritation on skin. The hydration is designed to last up to 8 hours. This product review will be evaluating how effective this moisturizer is, especially compared to leading manufacturers.
Ingredients & How It Works
Hydromanil
Shea Butter
Mango Butter
Glycerin
Caprylic/Capric Triglyceride
Butyrospermum Parkii Butter
Glycine Soja Sterols
Persea Gratissima Oil
Mangifera Indica Seed Butter
Tocopherol
The first listed ingredient is patented by the manufacturer. It traps water in the skin and slowly releases it to the skin cells to provide long lasting hydration. The remainder of the ingredients contain some degree of moisture and nutrients which will also be trapped in the skin by the hydromanil and the various butters and oils. The butters and oils create a layer of the hydrophobic substance which helps to prevent water leaving the skin through evaporation and other mechanisms. The last ingredient tocopherol, is an antioxidant which helps to prevent chemical damage to the skin which is one of the major causes of its dehydration.
Instructions
This product must be applied twice a day in the morning and in the evening as part of a normal skin care regimen. The manufacturer does not specifically state this but it is more likely than not that this product must be used with a cleanser and a toner, even perhaps with other anti-aging products.
The Cost
It will cost customers $42.50 to buy 1.7 oz of this product. The price does not include the cost of delivery. There does not appear to be a subscription service or bulk order discounts but customers can sign up for the Obagi Inner Circle to receive promotional discounts.
Guarantee
We searched extensively but could not find any evidence of a guarantee or returns policy for this product. This is rather an unfortunate feature of the product because it suggests to us at this manufacturer is not completely certain that their product will work. We say this because they are unwilling to absorb the risk of the product not working which means from their side they view the risk is high. Rather they would have their customers face this risk and potentially lose money if the product is not to their satisfaction.
Our Review Summary Of Obagi Hydrate Facial Moisturizer
Most of the ingredients in this product have got a reasonable amount of scientific rationale for their inclusion. The manufacturer also provides clear and specific instruction on how and when to use the product. But this product is also a bit of a let down because there aren't any obvious or significant discounts for this product like certain other manufacturers and there is no satisfaction guarantee. We view products with discounts and guarantees as  better than this one. 
Well researched reviews, from the experts at Research & You.