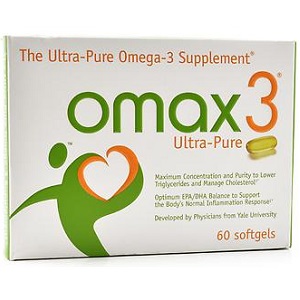 Omax3 Ultra-Pure - Does It Work?-Review
What is Omax3 Ultra-Pure?
This review is all about Omax3 Ultra-Pure which is a supplement capable of improving the heart's health and decreasing triglyceride levels. It contains the revolutionary ProResolv formula that helps it to lessen cellular inflammation in the body. The fish oil is purified through a thorough refinement process, and it is tested for purity and effectiveness. The product is easy to swallow, and it is 100% contaminant free.
Ingredients & How It Works
Omax3 Ultra-Pure has the following ingredients:
Vitamin E - It has antioxidant properties, and shields lipids and stops the oxidation of polyunsaturated fatty acids.
Omega-3 Fatty Acids - They work to help in the reduction of blood pressure and triglyceride levels.
EPA and DHA - The manufacturer states these two ingredients are included in a ratio of 4:1 that enables them to reduce cellular inflammation in the body.
This product does not contain enough elements, and it is not clear about the amounts of EPA and DHA included. Apart from stating the ratio, it is alarming that the details are limited on the quantity of these ingredients.
Daily Serving
Omax3 Ultra-Pure as a supplement comes in the form of softgels, and it is taken orally. The manufacturer recommends taking two softgels every day. Although the manufacturer does not give detailed information on the dosage, we know from our research that dietary supplements are usually taken alongside meals to boost their absorption into the body. We also found out that you can take them either all at once or spread them out throughout the day.
The Cost
According to the manufacturer's website, the price of one box of Omax3 Ultra-Pure is $47.95 plus shipping and handling. Customers can get a discount when they buy three boxes at $43.32 each plus free shipping and handling. One box contains 60 softgels.
Guarantee
In spite of the manufacturer stating that Omax3 Ultra-Pure omega-3 supplement has been twice-tested by independent laboratories for the safety of the consumers, it does not offer a money back guarantee. However, the manufacturer advises dissatisfied clients to call the company in case there is a need.
Our Review Summary of Omax3 Ultra-Pure
Omax3 Ultra-Pure contains omega-3 fatty acids which are known to lower blood pressure. It is a great product for someone who wants to reduce their triglycerides and general body inflammation. We cannot conclude that Omax3 Ultra-Pure is an effective product because the manufacturer website provides limited information on its usage. Lack of a money back guarantee is also another issue that raises doubts if indeed the product is useful. This indicates clearly that the manufacturer is insecure and not sure if it works. We also established that there were no customer reviews on the website. The possible side effects are also not stated, and the failure to state the amount of EPA and DHA in the product are two major concerns for those seeking to take this product.
Well researched reviews, from the experts at Research & You.