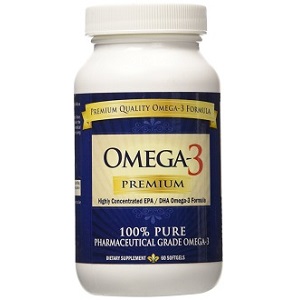 Omega-3 Premium - Does it Work?-Review
What is Omega-3 Premium?
This supplement offers individuals a great source of omega-3 vitamins. This supplement is designed to help strengthen cardiovascular health. It can also aid in boosting cognitive functions, increase metabolism, reduce joint inflammation and help in decreasing feelings of depression.
If you wish to learn more about this product, please continue reading our in-depth Omega-3 Premium review below.
Ingredients & How it Works
This dietary supplement contains one single ingredient which is a concentrated level of omega-3 fatty acids. Omega-3 Premium contains 1,500mg of omega-3 fatty acids, made up of 800mg EPA, 600mg DHA, and 100mg of other omega-3 fatty acids. Omega-3 fatty acids are known to offer numerous health benefits. These benefits include lowering the risk of heart disease and lowering cholesterol. Medical studies have also concluded that omega-3 fatty acids can have positive effects in treating depression, lowering ADHD, and lowering the risk of cancer.
Daily Serving
The recommended adult dosage for this dietary supplement is two capsules per day. There are several known mild side effects for taking omega-3 fatty acids but these are rare.
These mild side effects include stomachache, loose stool, nausea, and fishy burps. In order to prevent these side effects from affecting you, consult with your doctor first to know the proper dosage level. If you are allergic to fish, you should not use this supplement.
The Cost
One bottle of Omega-3 Premium contains 60 softgel capsules and will cost you $49.95 when you buy online from the manufacturer's website. You can take advantage of some discounts by purchasing the monthly supply packages. You can choose from the three-month supply Package which will have two bottles plus one free for a total cost of $90.00. The four-month supply package will include four bottles for a total cost of $112.00 and the six-month supply package offers six bottles for a total cost of $138.00.
Guarantee
This product comes with a 90-day money back guarantee. This will be a nice way to try out this product without the risk of wasting money if it turns out to be ineffective or if you are not happy with it in any way. This product is also manufactured in an FDA-approved and cGMP-certified lab, while also following the guidelines of the US Pharmacopeia so you know you are getting a quality product that the manufacturer is confident in.
Our Review Summary of Omega-3 Premium
All in all, the Omega-3 Premium supplement proves itself to be a noteworthy source of omega-3 fatty acids. It can help significantly reduce the risk of heart disease, enhance your cognitive function, alleviate joint and muscle pains and even assist in keeping depression away.
Supplements are the perfect alternative for preventing vitamin deficiency. We hope that this review of Omega-3 Premium gave you all the information you need to learn if this product is the best choice for you.
Well researched reviews, from the experts at Research & You.