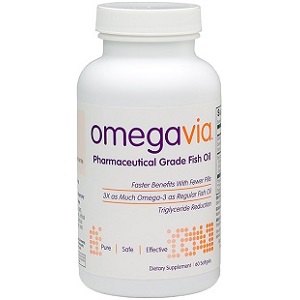 OmegaVia Fish Oil - Does It Work?-Review
What is OmegaVia Fish Oil?
Omega-3s have in recent years come to the fore in the nutritional supplements category due to its purported benefits, helping to reduce joint discomfort and promoting heart health, among other things. OmegaVia Fish Oil claims to contain more omega-3 than any other omega-3 pill. The manufacturer asserts that OmegaVia will provide the above noted benefits as well as boost memory and cognitive brain functions and even help your mood. This review aims at clarifying these claims.
Ingredients & How It Works
The key element in every soft-gel is 1105 mg of Pharmaceutical Grade Omega 3 (Triglyceride rTG oil) extracted from sardine, mackerel and anchovy. The manufacturer notes that its production process includes an enteric coating to minimize fishy burps.
Other ingredients are
gelatin
Vegetable glycerin
Natural sunflower tocopherols
Rosemary extracts
plant derived food glaze
Daily Serving
The recommended dosage is one softgel a day for those taking it for general health. Specific condition instructions are as follows:
Take 3 to 4 a day for triglycerides
Take two softgels a day for a healthy heart
Consume 2 to 4 a day for joint health
For mood health, consider taking two softgels every day.
All in all, do not exceed a dosage of more than four capsules a day. Should you feel you need to take more than two pills a day, consult a doctor. Also, consider taking the softgels before meals.
The Cost
OmegaVia Fish Oil gives consumers many options for purchase directly from its website:
One bottle will cost you $34.69 with no discount
Two bottles retail at $29.89 each, 14% off.
Three bottles cost $28.89 each giving you a 17% discount.
A subscription (auto-refill) program is also offered at $26.89 per unit
Guarantee
OmegaVia Omega-3 Fish Oil comes with a strong 90-day money-back guarantee. If you try it out and you do not like, return unopened products to the manufacturer (and no need to return opened bottles). They even will send you a prepaid return shipping label. The decisive majority of Amazon customer feedback is positive.
The Bottom Line
OmegaVia Fish Oil looks like a player in the competitive omega-3 supplement category. It packs 1105 mg of Omega-3; EPA- 780 and DHA- 260 mg. These fats help reduce the risk of heart disease and offer other health benefits as well. The supplement comes with a strong money-back guarantee, allowing you to try it risk-free, at least as far as you wallet is concerned.
Nevertheless, we did find some downsides. First off, OmegaVia Fish Oil does not have cGMP certification which protects consumers from inferior products. And some consumers complained about the size of the softgel. While packing more omega-3 into each capsule is a selling point on the one hand, it means a harder-to-swallow pill size on the other. Also note that the refund policy only applies to customers in the USA. If you buy from outside the USA you are not eligible for a refund at all.
Well researched reviews, from the experts at Research & You.