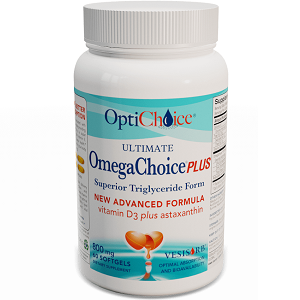 OptiChoice CoQ10 plus Omega-3 - Does It Work?-Review
What Is OptiChoice CoQ10 plus Omega-3?
Coenzyme Q10 is the supplement you want to take to preserve and improve your heart health and brain health. This compound is found in every cell in the body and is concentrated in heart and liver cells. It is where the cells get their mitochondrial energy from, and most of the heart and liver cells, in particular, are packed with CoQ10. Inflammation and the aging response are safeguarded against, and your blood pressure is also lowered by this compound.
OptiChoice is the brand of CoQ10 we review here. As can be seen from the title, another important nutrient, Omega-3, is also included. This will boost the anti-inflammatory response. OptiChoice says its version has superior absorption and bioavailability of both the purest natural CoQ10 plus the highest concentration of Omega-3 EPA and DHA  available without a prescription.
Ingredients & How It Works
Vitamin E (as natural d-alpha tocopheryl acetate)
OmegaChoice® Purified Fish Oil
EPA (Eicosapentaenoic Acid) as Triglyceride
DHA (Docosahexaenoic Acid) as Triglyceride
Natural Coenzyme Q10 (as Ubiquinone) - 200mg
Firstly, let's look at the dosage. It is 200mg which is below the medically required and advised 250mg per day. It is also not the highest available on the market without prescription - there are manufacturers offering 400mg. Is it advisable to take such high amounts without consulting your doctor? No, not at all. In fact, it can be dangerous. But the fact remains, it is available, so the manufacturer's claim to be the highest is not accurate. The addition of fatty acids in this formula (EPA and DHA) are giving you added value, as they perform end-functions similar to that of CoQ10. It is like getting various forms of the same protection and insulation.
While there is nothing wrong with ubiquinone, it is not the most readily absorbable for the body - that belongs to ubiquinol. However, the vitamin E here will enhance the bioavailability. The best absorption tool though as verified by research is Bioperine, and that compound is missing from this formula.
Daily Serving
Take two or more softgels daily with food or as directed by your healthcare professional. The softgels contain a soy derivative in the form of soy lecithin. Therefore, do not take these softgels if you have an allergy. OptiChoice doesn't specify any side effects, but the usual caution is that if you are on warfarin and, to lesser extent statins, or any chronic medication, you should clear taking COQ10 with your doctor first.
The manufacturer recommendation of two capsules a day or 400mg is too high. Leading medical experts have said that such a high dose needs to be closely controlled, and only taken in very narrowly defined circumstances.
The Cost
Each bottle is packed with 60 softgels, for which you will pay $39.99. However, somewhat confusingly, the product was marked as 'sold out' at the time of doing this research and of attempting a sample purchase. It is not clear when the product will be back in stock. That notwithstanding, here are the other price bundles for your reference:
10% off on all orders over $99
15% off on all orders over $149
20% off on all orders over $199
In addition, shipping is free on these bulk orders.
Guarantee
We found no guarantee or returns policy when researching this brand of COQ10. This is quite strange, given the emphasis on customer satisfaction via a call center and a staff compliment that includes nutritionists and doctors. We would have thought that given what the manufacturer says went into researching their formula, a guarantee as a mark of confidence with what they've brought to market would have been in order.
Our Review Summary Of CoQ10 plus Omega-3
This is a product offering which contains more than just CoQ10 compounds as you are getting the added benefit of all-important Omega-3. You may also be getting a slightly higher level of absorption thanks to the Vitamin E contained in the capsules. It also boosts the cumulative antioxidant power in the formula.
There is no guarantee though and not that you won't see the effects of this supplement, but why as a manufacturer would you not offer one if your supplement is as good as you say it is? The lack of a policy will also leave you stranded should the wrong product arrive. The other issue is that the manufacturer has (probably unknowingly) made some exaggerated claims about its product. These days it is not acceptable as an argument for misleading marketing could be made. If you say your product has the highest amount of CoQ10 available without a prescription, then regardless of whether it's actually advisable for other manufacturers to put higher amounts to market without prescription, your claim still needs to hold up. Lapses like these tend to warrant closer scrutiny as it is then not obvious what else a manufacturer may be slightly bending the truth about. Finally, the scientifically recommended bioavailability compound has not been added to this formula. 
Well researched reviews, from the experts at Research & You.