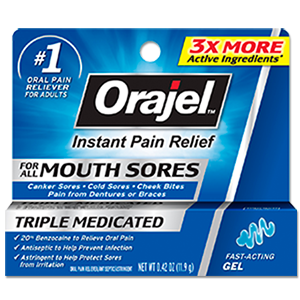 Orajel Mouth Sore Gel - Does It Work?-Review
What is Orajel Mouth Sore Gel?
The following is a detailed review of Orajel Mouth Sore Gel. This popular product is directed for use in treating canker sores, gum soreness, or other gum related problems. The manufacturer also claims that the product can be effective in treating painful mouth sores caused by cold sores, gum sores, braces, and cheek bites. The gel has a numbing effect which helps to calm the unpleasant soreness associated with these problems. This product aims to provide fast and effective pain relief combined with strong antiseptic properties in order to minimize the opportunity for infections. Keep reading to learn if Orajel Mouth Sore Gel can help you get rid of mouth sores.
Ingredients & How It Works
Active Ingredients
       Benzalkonium Chloride
       Benzocaine
       Zinc Chloride
Inactive Ingredients
       Allantoin
       Carbomer
       Edetate Disodium
       Mentha Piperita Oil
       Polyethylene Glycol
       Polysorbate 60
       Propylene Glycol
       Propyl Gallate
       Water
       PVP
       Sodium Saccharin
       Sorbic Acid
       Stearyl Alcohol
Benzalkonium Chloride acts as an antiseptic and will provide protection against infection in minor oral irritation or damage caused by sores. Benzocaine is a topical pain reliever and will also reduce discomfort caused by canker or mouth sores. Zinc Chloride is an astringent and will help to dry out the canker or mouth sore and also relieve pain.
Daily Serving
For adults and children 2 years and older, apply the gel to the affected area up to 4 times a day or as directed by your dentist. Children under the age of 12 should be supervised while using the product. Consult your doctor or dentist if you intend to use on children under age 2.  Do not use if you have an allergy to local anesthetics. Do not use for longer than 7 days unless advised by a medical professional.
The Cost
Not available for sale on the company website but a link directs you to online retailers like Amazon, Target, CVS etc.  Amazon sells this gel in a 0.33 oz tube for $19.88. Prices will vary widely between the different retailers and by the type of Orajel product you are buying. The manufacturer's website does not offer any special offers or discounts coupons.
Guarantee
The guarantee varies depending on the retailer where you purchase it from. Amazon offers a 30-day money back guarantee. Check the seller's policies and small print before buying.
Our Review Summary Of Orajel Mouth Sore Gel
There are several things we liked about Orajel Mouth Sore Gel. It is a brand that has been around a long time and consumers seem to state in the reviews that they have some measure of success using it to treat canker sores and similar maladies. The ingredients seem to have a double effect of numbing pain and fighting off infection which are important qualities when treating canker sores and other gum infections. However, as well as the positive reviews we did also see lots of reviews who stated that the gel was not helpful in getting rid of canker sores. Somewhat lacking from the website was a detailed description of possible side effects of the gel. It is unclear if it can be re-used at a later time if future canker sores reappear as they might well do. There are many copycat products with similar ingredients on the market today so we would suggest you shop around for a good deal. For these reasons, we are unable to recommend Orajel Mouth Sore Gel specifically at this time.
Well researched reviews, from the experts at Research & You.