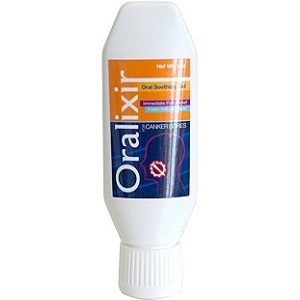 Oralixir Oral Soothing Gel - Does It Work?-Review
What is Oralixir Oral Soothing Gel?
Today we are reviewing Oralixir Oral Soothing Gel. Oralixir Oral Soothing Gel is an all-natural solution which contains powerful ingredients that the manufacturer claims will quickly and effectively treat and heal canker sores, mouth sores, and cold sores. Having canker sores can be really uncomfortable, and make eating and drinking a painful endeavor. The organic ingredients in Oralixir Oral Soothing Gel offer a cooling sensation which can help provide relief from  pain often associated with canker sores and other mouth sores and ulcers. Keep reading to learn if Oralixir Oral Soothing Gel can offer you relief from your canker sore discomfort.
Ingredients & How It Works
Aloe Vera
Sclerotium Gum
Menthol
Vegetable Glycerine
Licorice
Goldenseal Extract
Propolis
Slippery Elm Bark
Lavender Flower Extract
Chamomilla Recutita Flower Extract
Calendula Flower Extract
Peppermint Oil
Eucalyptus Globulus Oil
Wintergreen Oil
Oregano Oil
Tea Tree Leaf Oil
Papaya Leaf Extract
Coconut Oil
Myrrh
Plum Extract
Vitamin B3
Beta Glucan
Lysine
Zinc Gluconate
Radish Ferment Filtrate
Grapefruit Peel Oil
This extensive list includes twenty-five individual ingredients that are claimed to help treat, heal, and relieve the pain of canker sores in a natural non-chemical approach.
Daily Serving
Directions on Amazon suggest drying the affected area first before using a q-tip to apply Oralixir directly to the sore. The manufacturer claims that the pain should stop immediately after applying. There wasn't a clear explanation about the frequency and dose amounts. There was also no explanation about how long you should continue using the product to treat canker sores. 
The Cost
The price on Amazon is $19.95 for a 1 oz bottle. If you purchase 2 bottles, you get a 10% discount, 20% off when you purchase 4 bottles, and 30% off when buying 6 bottles.
Guarantee
On the Amazon product page, it says that there is a 100% money back guarantee, but there was no detailed explanation about the terms of the policy. For example how long the policy lasts, if you could return open containers of the product, and under what circumstances you can return the product, and if it included shipping costs or not.
Our Review Summary Of Oralixir Oral Soothing Gel
Among the things we liked about Oralixir Oral Soothing Gel are that its ingredients are all natural, and organic. We also liked that if you choose to buy in bulk, there are discounts available. We did have a number of criticisms too though. We looked hard for the information, but we could not find an explanation of how long a typical treatment plan should take to heal canker sores, nor how long it was safe to continue using the product. In addition, we read that the product reviews were very mixed. Some people had success healing canker sores, while many people did not. For example one reviewer stated that the product burns when applying and once applied the pain relief is only for a short period of time, and expressed regret that it did not expedite healing time like some people have said. Lastly, the manufacturer's 100% money back guarantee did not elaborate or specify any conditions which will leave the buyer unsure of what their return policy actually is. For these reasons, we cannot recommend Oralixir Oral Soothing Gel.
Well researched reviews, from the experts at Research & You.