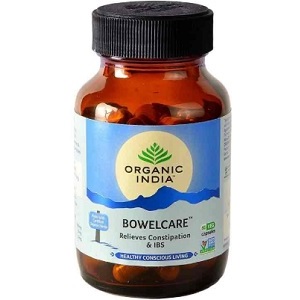 Organic India Bowel Care Formula - Does it Work?-Review
What is Organic India Bowel Care Formula?
Read our review below about Vitacost Organic India Bowel Care Formula. This is an organic product which might assist with symptoms associated with IBS (Irritable Bowel Syndrome). This dietary supplement aims to improve bowel movement (peristalsis), cleanse the colon, as well as the lubricating of the bowel, and might assist with the absorption of nutrients. We look into the facts concerning this product to determine if it is the solution for your IBS.
Ingredients & How it Works
Psyllium Husks
Bael Leaves
Garden Cress Seeds
Blend actions: Bael and Garden Cress Seeds provide demulcent (relief from irritation) qualities and are nourishing and soothing to the colon. Psyllium acts as a carrier and helps bulk the waste materials for elimination. The capsules are made from Vegetable cellulose meaning that they are vegetarian-friendly.

We feel that there are some key ingredients which have been clinically proven to aid individuals suffering from IBS. Turmeric or Ginger could have been added to complement the blend with their soothing properties, as well as Bioperine which assists the digestive system with absorption.
Daily Serving
The manufacturer advises that two capsules be taken 1-2 times a day with meals, in acute cases 2 capsules may be taken 3 times a day with meals. It is advised that you consult your professional healthcare provider first if you are pregnant or breastfeeding.
The Cost
At the time of the review, the manufacturer's website was temporarily out of order however, this product is made available for online purchase through third-party retailer websites at a discounted price of $16.99. In order to qualify for the discount, users must enter a promo code. There is also a subscription option available, however, these are usually used as a marketing ploy. they are difficult to cancel and usually, come with hidden costs which you may be debited for at any time without much consent.
Guarantee
It was somewhat concerning that we could not find any information on a money back guarantee. This certainly leaves the consumer in the dark, some of which might experience allergies or adverse reactions to the product and will be unable to get their money back for the product.
Our Review Summary of Organic India Bowel Care Formula
In our review of Organic India Bowel Care Formula, we have found this product to be 100% Certified Organic. We also like the fact that the product seems to be affordable.
What we do need to address, though, is the lack of important ingredients, as well as a strong money back, guarantee for customers. based on the fact that the manufacturer's website was unavailable, we were unable to see if there were any testimonials left by users and therefore cannot comment on whether or not this formula has been effective for the majority of consumers.  Bioperine, turmeric, as well as ginger, could have been added to strengthen the formulation of this supplement. After our careful research and thorough examination, we would rather suggest other brands be sought after to aid IBS and its symptoms.
Well researched reviews, from the experts at Research & You.