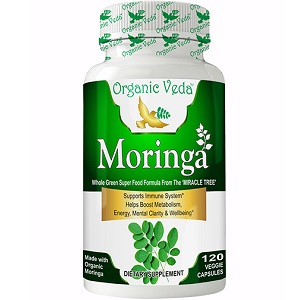 Organic Veda Moringa - Does It Work?-Review
What is Organic Veda Moringa Capsules?
This is a review for Organic Veda Moringa Capsules, a dietary supplement that suggests that it can help the user by balancing and repairing malnutrition. According to the available product information, Moringa contains many minerals, amino acids, and vitamins - all meant to assist in the overall regulation of the organs in the body, boost the immune system, increase energy and add nutritional value to daily diets. While it is assumed that Moringa Capsules is a nutritional supplement, these capsules are predominantly used as meal suppressants that are supposed to aid the user with their weight loss journey. According to the manufacturer's website, these capsules are antioxidants, that claim to be just as good as many other micro and macro minerals and vitamins.  
Ingredients & How It Works
This product contains 800mg Moringa Oleifera Leaves and while a host of active minerals and vitamins found in this product was listed, it is unclear if any other ingredient was present. According to research Moringa leaves have been traditionally used to fight infection, due to the presence of Vitamin A and C. While there is insufficient evidence to support these claims, Moringa has been used to aid a plethora of health-related conditions from asthma to sex drive.
This being said, it should be noted that studies show that this plant could be safely used when taken in appropriate doses, approximately 6 mg per day (for no longer than three weeks). Although it is important not to ingest the extract or root as these parts of the plant could be very toxic.
Daily Serving
According to the product information available to the consumer, this dietary supplement should be taken two times daily, or as suggested by a healthcare professional. It is however not stipulated when in the day or how you should take this product.
The Cost
This product is currently available directly from the manufacturer's website. You can buy this dietary supplement online in two different amounts; 120 count capsules at a price of $17.99 and
300 count capsules at a price of $29.99. At the time of this review, we were unable to locate any special offers for these moringa capsules.
Guarantee
After searching the manufacturer's website we were unable to track down a returns policy. This is slightly concerning, as it does not show much confidence from the manufacturer. We did, however, find a couple of positive customer reviews.
Our Review Summary Of Organic Veda Moringa Capsules
In conclusion to our review of Organic Veda Moringa Capsules, we found that we liked the fact that there was some evident positive feedback from previous users. We also appreciated that this product only seemed to contain one ingredient. On the other hand, it was concerning that there was no customer satisfaction guarantee in place and that there was very limited information on the use of this product. We were also concerned about the amount of moringa in each capsule as this information was not stipulated.
Well researched reviews, from the experts at Research & You.