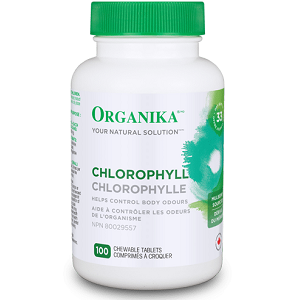 Organika Health Products Chlorophyll - Does It Work?-Review
What is Organika Health Products Chlorophyll?
Read our review below about a product called Organika Health Products Chlorophyll. The product is designed to help control body odor and excess perspiration, reduce acidity in the body, stress and fatigue, and to support healthy blood flow and general health. It is available in a tablet and liquid form.
Ingredients & How It Works
The main ingredient in both the tablet and the liquid form of this product is Sodium Copper Chlorophyllin.
There isn't enough information available to know how chlorophyllin works. However, it is a rich source of magnesium and is known to be beneficial in controlling body, fecal, and urine odors; and for treating constipation and flatulence.
Daily Serving
This product is recommended for adults only. Chew 1 tablet 2 times per day. If odor is not controlled, it is recommended to increase the dosage to 1 tablet three times per day. For the liquid form, take 1 ml (30 drops) in a glass of water 2 to 3 times per day.
The Cost
The manufacturer does not sell this product on their website. However, it is available from various online retailers at varying prices. The cheapest price we have seen is $13.54 and the highest is $25.95, for tablets. The cost for Organika Liquid Chlorophyll is around $19.84. There are discounts available from selected retailers. Consumers will have to shop around a bit before they decide on the right deal.
Guarantee
There is no money-back guarantee offered on this product, which means that you are taking a risk if you buy it. You could possibly benefit, but you will not be refunded if you do not see the results that you need.
Our Review Summary Of Organika Health Products Chlorophyll
Organika Chlorophyll might be an effective product for controlling and eliminating body odor. It is available in both liquid and tablet form, which is good for consumers because they can choose the one that they like. The product does not contain dairy, egg, artificial preservatives, colors, artificial sweeteners, yeast, wheat, gluten, or soy, which makes it suitable for most individuals.
However, chewable tablets may not be suitable for individuals with certain dental conditions. Chlorophyll may cause discoloration of the tongue, urine, and feces. It may also cause cramps or diarrhea. Individuals who use this supplement must be careful.
There are no consumer reviews on the product, not even on one of the major online retailers' websites. This is worrying because it may mean that not many individuals have bought nor used the product. It may also mean that it is unknown on the market. Consumer reviews are important in helping potential customers to make informed decisions when they read the experiences of others.
There is no information on the money-back guarantee. If it existed, information on it would be made available to the customers on the manufacturer's website. The absence of a guarantee shows that the manufacturer does not have confidence in the effectiveness of their product. The customer satisfaction is also not their priority. Rather buy a product with better qualities than this one. 
Well researched reviews, from the experts at Research & You.