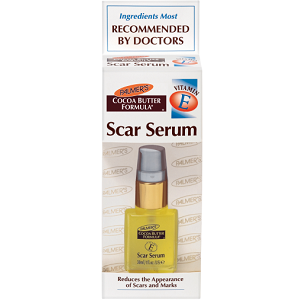 Palmer's Cocoa Butter Formula - Does It Work?-Review
What is Palmer's Cocoa Butter Formula?
The following review will examine Palmer's Cocoa Butter Formula. It is designed to reduce the appearance of scars caused by surgery, injury, burns, stretch marks, C-section, cuts scrapes and insect bites. The manufacturer claims that this product is made from the ingredients that are most recommended by doctors.
Ingredients & How It Works
Tocopheryl Acetate (Vitamin E)
Theobroma Cacao (Cocoa)
Seed Butter
Shark Liver Oil
Dimethicone
Allium Cepa (Red Onion) Bulb Extract
Cacao acts as a moisturizer that diminishes the appearance of marks and scars. Vitamin E acts as an antioxidant and is helpful in reducing scars, stretch marks and imperfections on the skin, giving a more even and toned appearance. Shark Liver Oil smoothes and softens the appearance of scars. Allium Cepa helps diminish scar matrix.
The amount of each of the ingredients contained in the product is not stated, which is worrying because it could affect the way that the product works on your skin.
Daily Serving
We did not find any information relating to the use of this product. It is concerning that this information is not available on the website because the consumer needs to know this before they can decide to buy the product.
The cost
Palmer's Vitamin E Scar Serum can be purchased from various online retailers. The price varies per retailer. For instance, one retailer charges $14.49 per bottle, while another one charges $12.68. Discounts are available at selected retailers.
Guarantee
The manufacturer does not offer any money-back guarantee on this product, which is worrying because the customer is not protected. The absence of guarantee shows that the manufacturer does not care about the customer satisfaction. When a product has a guarantee, the customer shops knowing that they are safe as they can return the product for a full refund if it is not effective.
Our Review Summary Of Palmer's Cocoa Butter Formula 
Palmer's Cocoa Butter Formula Vitamin E Scar Serum might be beneficial in reducing scars and marks resulting from surgery, cuts, insect bites, and other causes. It contains natural ingredients that are safe and some of which have been proven to be effective on this skin. The price is reasonable, which is good. However, there are a number of things that we are concerned about.
The amount of each of the ingredients is not indicated. Even though they are natural and safe, some people might react to high amounts of the ingredients. Therefore, it is important that the amount of each and every active ingredient is indicated. Furthermore, we could not find the instructions on how to use the ointment.
Lastly, there is no money-back guarantee. For that reason, you cannot return it for a refund if you are unsatisfied with the results. We recommend that you look for a product that provides the necessary details. The instructions for use must also be made available and clear. The item must be covered by a money-back guarantee. 
Well researched reviews, from the experts at Research & You.