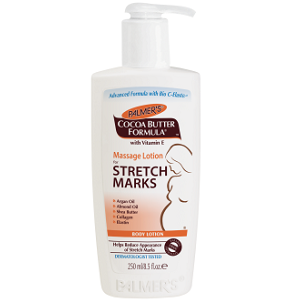 Palmer's Massage Lotion for Stretch Marks - Does It Work?-Review
What is Palmer's Massage Lotion for Stretch Marks?
The following review is for Palmer's Massage Lotion for Stretch Marks. The manufacturer claims that this lotion helps visibly improve the skin's elasticity and reduce the appearance of stretch marks. It also helps the skin stay moisturized for up to 48-hours allowing the skin to be more supple during movements. The product is specifically designed for pregnant women and mothers who have given birth or during weight fluctuation. Read our review below to find out more about Palmer's Massage Lotion for Stretch Marks.
Ingredients & How It Works
Water
Theobroma Cacao Extract
Glycerin
Glyceryl Stearate
Petrolatum
Propylene Glycol
Mineral Oil
Cetyl Alcohol
Theobroma Cacao Seed Butter
Coconut Oil
Palm Oil
Dimethicone
Shea Butter
Sweet Almond Oil
Tocopherol
Sunflower Seed Oil
Centella Asiatica Extract
Soluble Collagen
Hydrolyzed Elastin
Argania Spinosa Kernel Oil
Acetylarginyltryptophyl Diphenylglycerine
Hydoxyethylcellulose
PEG-8 Stearate
Phenoxyethanol
Benzoic Acid
Sorbic Acid
Behentrimonium Methosulfate
Butylene Glycerol
Caramel
Fragrance
Cellulose
Soduim Acetate
Stearyl Alcohol
Myristyl Alcohol
Benzyl Benzoate
Benzyl Salicylate
Limonene
Hexyl Cinnamal
Butylphenyl Methylpropional
Linalool
Vitamin E
Argan oil
This product contains a long list of ingredients, which is not necessarily a good thing. The cocoa butter and shea butter provide the skin with moisture, keeping it soft and plump during movement of the belly. The Vitamin E found in this product reduces the appearance of scar and marks. It is noteworthy though, that this product lacks ingredients that offer rejuvenation to the skin. These ingredients include Onion bulb extract, Aloe vera, emu, safflower, and Jojoba oils. If this product does not have this aspect, it might not be very effective.
Daily Serving
The manufacturer gives the user an option of replacing their normal moisturizer with this product. It should be applied 3 times a day over the entire body to help improve elasticity and suppleness of the skin. If you have any side effects, like a rash or irritation, discontinue the use thereof. It is important to first test the product on a small area of the body before using the product, as a women's sensitivity heightens during pregnancy.
The Cost
Customers can purchase this product online through the manufacturer's website. A 250 ml bottle will cost between $5.48 and $9.20, depending on the retailer. It can also be purchased from various re-sellers on Amazon. Here the product is sold in bulk packages of 2, 3, and 6 packs. The bigger the bulk package, the less you pay. The product can also be purchased from various local retailers.
Guarantee
The manufacturer offers a money-back guarantee on all products you are not satisfied with. This is seems to be a weak return policy as the customer is not provided with a period of time wherein the product may be returned. A customer will either fail to receive a reimbursement, or they will rather search for an alternative option.
Our Review Summary Of Palmer's Massage Lotion for Stretch Marks
A few aspects about Palmer's Massage Lotion for Stretch Marks seem to be positive. The product can be replaced as an every-day-lotion and it can be purchased from various online and local retail stores.
Unfortunately, there are a few negative aspects as well. First of all, the product lacks ingredients that provide the skin with rejuvenating properties. This could affect the end results and make the product ineffective. Another concern is that the manufacturer does not offer a strong guarantee on their product. The return policy does not state the time period where within the product may be returned. Due to the lack of essential ingredients and the weak guarantee, we recommend that an alternative stretch mark product be chosen.
Well researched reviews, from the experts at Research & You.