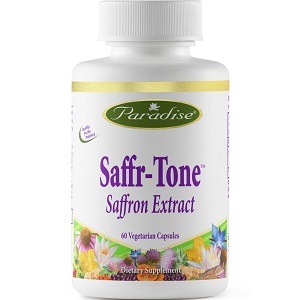 Paradise Saffr-Tone - Does It Work?-Review
What is Paradise Saffr-Tone?
This is a review of Saffr-Tone, manufactured by Paradise. Saffron is a traditional herb used to generate a positive mood and improve one's overall harmony and balance in the body. This will allow one to sleep better due to less stress and better eating habits. They claim that their product is of the highest quality saffron and will help with overall health and wellbeing. To learn more about the ingredients in Paradise Saffr-Tone and if it is worth a try, read our review below.
Ingredients & How It Works
Paradise Saffr-Tone contains only one main active ingredient, 15 mg saffron stigma extract in each capsule. The capsules are made from vegetable materials and are safe for vegetarian consumption. The product contains no binders, fillers or common allergens. There is no information made available on the manufacturer's website about how their product works. Lack of information may indicate that the product is ineffective.
Daily Serving
The manufacturer recommends taking one capsule in the morning and one capsule in the evening. There is no indication if Paradise Saffr-Tone should be taken before, during or after a meal. It is stated that one does not exceed the dosage recommended by the manufacturer. Avoid the use of this product during pregnancy. Consult your healthcare professional for advice if you are on any medication.
The Cost
From the manufacturer's website, you will be redirected to iHerb for an online purchase of Paradise Saffr-Tone. It will cost $19.99 for one bottle of 60 capsules. Find a retail store near you by following the instructions on the manufacturer's website. New customers get $5 off orders which are over $40. No bulk packages are offered by the manufacturer.
Guarantee
After much research, we were unable to find a money-back guarantee on the manufacturer's website. If a customer purchases a product and finds that it does not produce the results it should, they will want to have the freedom of returning the product for a refund. A lack of guarantee may prevent customers from purchasing Paradise Saffr-Tone as they would not want to be at risk of losing money.
Our Review Summary of Paradise Saffr-Tone
There are a few positive aspects about Paradise Saffr-Tone. The product can be purchased online or from local retail stores. There are however some negative aspects about the product as well. The manufacturer's website does not offer much information about the properties of the ingredients and what the product can do for you. This could indicate unprofessionalism. When taking the capsule, there is no information stating if it should be taken before, during or after a meal. Another major concern is the absence of a money-back guarantee. Potential customers do not want to be at risk when trying a new product for the first time. There are also no customer reviews to read to see how people have experienced Paradise Saffr-Tone. Customer reviews is a very good tool which could convince new customers to purchase the product. Lack thereof may indicate more unhappy customers than happy customers. A combination of these concerns may indicate that the product is ineffective. We are unable to recommend Paradise Saffr-Tone.
Well researched reviews, from the experts at Research & You.