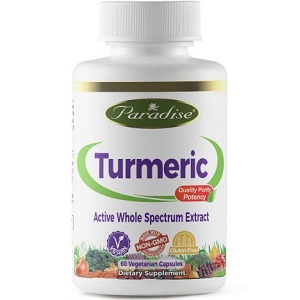 Paradise Turmeric Ultimate Ayurvedic Extract - Does It Work?-Review
What is Paradise's Turmeric Ultimate Ayurvedic Extract?
It is claimed by the manufacturer Paradise, that this dietary supplement enhances flexibility, while supporting the tendons, ligaments as well as joints. In addition, it is claimed that this supplement can promote intestinal flora, detoxifying and cleansing the body. Lastly, the manufacturer also claims that this product, if taken with warm milk at night, will encourage a good night's rest. Keep on reading our Turmeric Ultimate Ayurvedic Extract review for more information.
Ingredients & How It Works
Organic turmeric rhizome extract (250 mg)
Other ingredients: capsule (100% vegetarian plant cellulose)
Turmeric contains curcumin, a strong anti-inflammatory agent  offering antioxidant properties. As an antioxidant, it is able to neutralize free radicals; however, this substance also fosters the body's own antioxidant enzymes. Besides curcumin's benefits as an anti-inflammatory and antioxidant agent, it has been found to be beneficial for brain health. This element enhances the levels of BDHF (a brain hormone responsible for the growth and development of new neurons, delaying the degenerative processes within the brain). Therefore, curcumin may be useful in delaying of Alzheimer's disease. In addition, this substance is promising for heart health, for arthritis, and for depression. The product does not contain any fillers or have any common allergens.
Daily Serving
The manufacturer recommends that one (1) capsule be taken daily. Alternatively, the instructions of a doctor should be followed. The company does not, however, state at what time of day it is best to take this supplement, nor whether it should be taken with or without food for optimal results. As a traditional tonic, the capsules may be opened and contents poured into warm milk. The drink should be taken 30 minutes prior to bedtime.
The Cost
This product is available in both 60-capsule and 120-capsule bottles. The 60-capsule bottle costs $11.99 and the 120-capsule bottle $19.99. Both prices include a discount of 5% off the original retail price.
Guarantee
There is no manufacturer's guarantee of any kind offered by the company. This raises a concern about the effectiveness of this supplement.
Our Review Summary Of Turmeric Ultimate Ayurvedic Extract
The supplement Turmeric Ultimate Ayurvedic Extract is available at a discounted rate. In addition, this product is free from gluten, and fillers. However, there are also some issues with this dietary supplement. One concern is that there is a lack of a manufacturer's guarantee, which questions the effectiveness of the ingredients. This product lacks any agent such as BioPerine or oil, which helps to absorb the active ingredient within turmeric. Lastly, the dosage instructions are not clear and complete on the manufacturer's own website. Consumers are left in the dark as to dosage for optimal health benefits. From that, as well as that there are so many other similar, yet better quality turmeric supplements on the market currently, it might be better to look into one of those. This as a consumer should be getting the best results, not just average results when it comes to health supplements and their own health.
Well researched reviews, from the experts at Research & You.