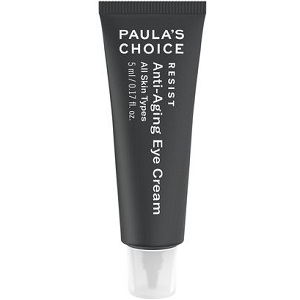 Paula's Choice Resist Anti-aging Eye Cream - Does It Work?-Review
What is Paula's Choice Resist Anti-aging Eye Cream?
In the following review about Paula's Choice Resist Anti-aging Eye Cream, we take a look at how this product compares two other anti-aging eye creams. This product is designed to brighten the skin and hydrate it  so that it reduces the signs of aging, which include dull, dark appearance and puffiness. This product is also designed to reduce the appearance of wrinkles and fine lines.
Ingredients & How It Works
Butyrospermum Parkii Butter
Glycerin
Ascorbyl Glucoside
Hydrogenated Lecithin
Glucosyl Hesperidin
Resveratrol
Palmitoyl Tripeptide-38
Caprooyl Tetrapeptide-3
Glycyrrhiza Glabra Root Extract
Phytic Acid
Beta-Glucan
Acetyl Glucosamine
Tocopherol
Allantoin
Adenosine
Caprylic/Capric Triglyceride
Sea Whip Extract
Arctostaphylos Uva Ursi Leaf Extract
Salix Alba Bark Extract
Although there is a long list of ingredients, they work together to perform a few general functions. The main functions that they perform are: providing nutrients to the skin cells, because healthy skin cells are plump and active and not saggy or droopy,  providing hydration to the skin cells for the same reason, and locking the moisture in so that the effect lasts for several hours. The other functions of the ingredients include reducing inflammation by antioxidant effects, and reducing the pooling of blood under the eyes. Antioxidants reduce damage to skin cells by environmental chemicals thereby stopping the inflammation that precipitates shadows under the eyes. This inflammation is often associated with the collection of stagnant blood below the eye which is caused by dysfunctional capillaries. Some ingredients in this list have been proven to reduce this effect.
Instructions
The manufacturer recommends using the product by patting it in gently to the entire eye area in the morning and then applying sunscreen afterward. It is also generally recommended to cleanse the face before applying the product so that the ingredients are better absorbed.
The Cost
There are two sizes and pricing options for this product, $12 for 0.16 fl oz and $33 for 0.5 fl oz. Customers may subscribe for a regular order every month, and they will receive 15% off for doing so. Shipping is free to all orders within the United States of America.
Guarantee
Paula's Choice Resist Anti-aging Eye Cream comes with a 60 day money back guarantee. Under this guarantee customers may receive a complete refund so long as they do not return completely empty bottles. If customers return the product between 60 and 180 days from their purchase date then they may receive store credit for the product and if they use a gift card  only store credit and not cash refund may be issued.
Our Review Summary Of Paula's Choice Resist Anti-aging Eye Cream
This product contains a good collection of and a decent price range with discounts. We also appreciate the manufacturer offering a  guarantee on this product. Despite having all of these features, this product still does not compare with leading manufacturers. This is because leading manufacturers have at least five patented ingredients in their product which this does not, they also have more pricing options and discounts than this one, and the guarantees are more open, with less restriction terms than this one. 
Well researched reviews, from the experts at Research & You.