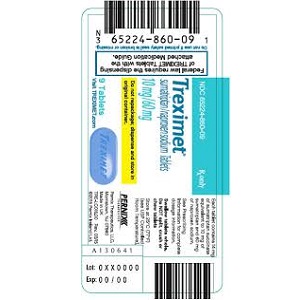 Pernix Therapeutics Treximet - Does It Work?-Review
What is Pernix Therapeutics Treximet?
The following is a review of the product Treximet. Treximet is a prescription medication which aims to relieve the pain associated with migraines. This drug is made with sumatriptan combined with naproxen, which offers relief from pain. In addition, this drug is not to be used for other types of headaches, nor as a preventive measure to avoid migraines.
Ingredients & How It Works
Naproxen Sodium – Naproxen sodium is a non-steroidal anti-inflammatory drug. This drug is effective in decreasing inflammation, swelling, as well as pain, however, it is mostly used for pain relief, a complication of inflammation.
Sumatriptan - Sumatriptan is a serotonin receptor agonist. This drug stimulates serotonin receptors in the brain, which compresses blood vessels as well as the muscles around the blood vessels. In addition, this drug reduces pain signals by stimulating the nerves to transmit messages to the brain.
Dosage
The recommended dose is 1 tablet, not exceeding more than 2 tablets within a 24-hour period.
In addition, this drug is not to be used by anyone younger than 12 years old, or those in the third trimester of pregnancy. This drug is accompanied by many warnings. Anyone with other health problems such as high blood pressure, diabetes, liver issues asthma, high cholesterol, or seizures, should first consult their doctors before using this drug. It is best to discuss use of this drug with your doctor first. There are several side effects, ranging from Reynaud's syndrome, increased blood pressure, possible kidney failure, anemia, liver failure, to asthma attacks. Should there be any blood pressure or muscular issues, increased heartbeat, raised body temperature, problems walking, or hallucinations, this drug must no longer be used.
The Cost
A pack containing 9 capsules of Treximent costs around $925.76, from a pharmacy. However, Pernix has a coupon discount of $25 if you buy the pack with your insurance.
Guarantee
After much research, we were unable to find any guarantee offered. This is a concern, particularly when the price is considered.
Our Review Summary Of Treximet
The drug Treximet by Perinix is a potentially good solution for people suffering from migraines. In addition, the manufacturer does offer a coupon on the sale of Treximet if brought out of pocket, which is a good savings for those without medical insurance.
However, this drug is a prescription medicine, which means that it comes with risks. In addition, many pre-existing medical conditions should be monitored by a doctor: some side effects could lead to death, if not a stroke. However, this drug is not a preventive solution nor a natural product. It may only be used at the lowest dose for the shortest time possible, owing to the risks involved with this drug.
Well researched reviews, from the experts at Research & You.