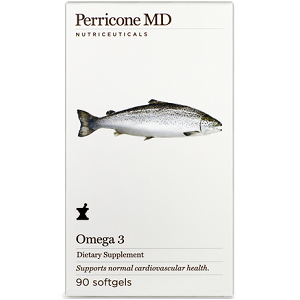 Perricone MD Omega 3 Supplements - Does It Work?-Review
What is Perricone MD Omega 3 Supplements?
The following is a review that focuses on the Omega-3 fatty acid supplement Omega 3 Supplements, made by the company Perricone MD. Perricone MD claims that this dietary health supplement supports with regulating weight, in so doing safeguarding a healthy metabolic system, and healthy cardiovascular health. Additionally, this health product is said to hydrate dry skin from within.
Ingredients & How It Works
Three (3) capsules deliver the following:
Wild Alaskan salmon oil (3000 mg)
Eicosapentaenoic acid (255 mg)
Docosahexaenoic acid (270 mg)
Other ingredients found in the capsules are fish gelatin, glycerin, purified water, as well as natural lemon flavor.
The capsules are free from wheat, soy, synthetic colors, synthetic flavors, dyes and sugar substitutes.
The health benefits of the substances docosahexaenoic acid and eicosapentaenoic acid are well studied for their benefits for heart health, good brain function, preserving a healthy skin, regulating depression, and for weight controlling. On the other hand, according to scientific research, for these elements to be effective there should be 600mg of docosahexaenoic acid and 800 mg of eicosapentaenoic acid. Conversely, this dietary supplement does not offer the end user even half of these amounts.
Daily Serving
The manufacturer's suggested dosage is to take one (1) up to three (3) capsules, three (3) times each day, with food. To conserve their weight loss, one (1) capsule should be taken three (3) times daily with food. For weight loss, three (3) capsules, should be taken three (3) times each day, with meals.
On the other hand, the product Omega-3, even though offering lots of health benefits, should not surpass 3000 mg as a day-to-day measured quantity. Three capsules already offer 3000 mg taking more than three capsules may be unsafe, particularly if salmon, hemp, or other natural sources of Omega-3 fatty acids are consumed: an overdose might result.
The Cost
Omega 3 Supplements is accessible online straight from the maker. A 30-day stock (or one (1) bottle) costs $42.00, not including the shipping fee. No discounts are offered. If shoppers subscribe to the corporation's auto-delivery program, they will get 10% off all their orders, including free shipping and a free tester. These are presented at different monthly intervals; yet, the buyer will be locked in, and the credit card will be deducted at those selected intervals. (This kind of subscriber program is customarily challenging to terminate).
Guarantee
The maker of this dietary supplement does offers a satisfaction guarantee. All returns should be done within 30 days of buying it, and disputes with the merchandise conveyed within two weeks of purchase, to be eligible for a reimbursement. Yet, the business indicates that money back payment will be made to the credit card only; other payment methods will be given a replacement merchandise.
Our Review Summary Of Omega 3 Supplements
This Omega-3 fatty acid supplement seems to have good characteristics, for instance the satisfaction guarantee, and that the dosage directions are easy to understand. On the other hand, there are also some red flags attached to this health product. If not buying via a credit card there is no money-back guarantee but will merely receive replacement. In addition, the reviews on this supplement are problematic: a large sum of the reviews on Amazon are untrustworthy (nearly 30%). Reviews are beneficial to gauge the benefits or negatives of a dietary supplement; but unreliable reviews cause distrust. Finally, the formula is not great quality, as the levels of docosahexaenoic acid and eicosapentaenoic acid are well inferior to the level of effectiveness suggested by clinical research studies.
Well researched reviews, from the experts at Research & You.