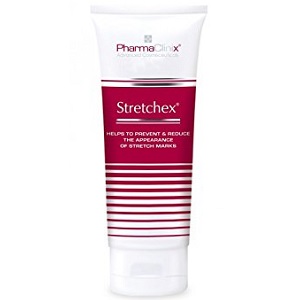 PharmaClinix Stretchex - Does It Work?-Review
What is PharmaClinix Stretchex?
The following review focuses on the product called Stretchex. This treatment is claimed by its manufacturers to 1)  assist in reducing red stretch marks, 2) smooth and tone the skin, and 3) increase the elasticity and firmness of the skin. More so, especially formulated for Asian, Africans and other ethnic skin groups, as a stronger strength treatment.
Ingredients & How It Works
The ingredients include properties aimed at:
Stretching force reducers:
Caesalpinia spinosa extract
Kigelia extract,
Quillaia extract
Glaucium flavum extract
Anti-inflammatories:
Phaseolus lunatus extract
Rutin
Hibiscus-eco
Green tea extract
Pal-gqpp and pal-ghk
Cellulite reducers:
Genisen
Spirulina platensis
Caffeine, carnitine
Vitamins:
Vitamin E
Niacinamide
Panthenol
Calcium pantothenate
Peptides:
Palmitoyl oligopeptide
Palmitoyl-tetrapeptide-7
The various ingredients are aimed at reducing stretch marks, acting as anti-inflammatories,  reducing cellulite, and feeding the skin. These ingredients function to firm the skin, to make the skin smoother and more elastic, while reducing red stretch marks. Dermarollex should be applied before this formula, once the stretch marks have turned white.
Daily Serving
The product may be liberally applied twice a day to affected areas, including thighs, stomach, arms, and hips. Massage in circular motion and in an upwards direction. The product is non-greasy and not sticky. It is readily absorbed. The product has been formulated for use by pregnant women or those with weight fluctuations.
The Cost
One tube of Stretchex (200 ml) costs $48,79 on the manufacturer's website. However, online it is stated that they are out of stock. No discounts are available on bulk orders, or otherwise.
Guarantee
The manufacturer offers a 30-day full money-back guarantee for new customers only, minus shipping fee. The return merchandise authorization number, received via email from the company, should be stated on the return slip. All other sales are non-refundable.
Our Review Summary Of Stretchex
Stretchex needs to be applied twice daily. Should the stretch marks already be white, as in a scar, Dermarollex may be applied to the scar. This will convert it to a red stretch mark that is treatable. Formulated with use by Asian and African customers in mind, the product may be tried out for 30 days post-purchase. The ingredient list is comprehensive, even though it lacks some clinically proven ingredients that work for stretch marks. Our research found a distinct lack of reviews on this product. Reviews indicate the experiences, both positive and negative that customers have had of a product. Lack of personal experiences of the product, is disappointing, particularly since this treatment costs more than  other, similar treatments on the market. This is a product that is also not easily obtainable. There is a clear lack of stock, even on the manufacturer's own e-commerce site. The product is said to be dispatched only within the United Kingdom and to the European Union and Asia. Purchasing options including discounts for bulk sales are unavailable. This means that customers cannot save by buying multiple units of this product.  It may therefore be easier and better to buy another, similar product, instead. There are many other, similar stretch-mark treatments available.
Well researched reviews, from the experts at Research & You.