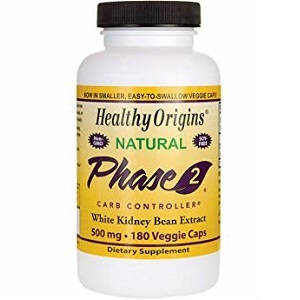 Phase Health White Kidney Bean Extract - Does It Work?-Review
What Is Phase Health White Kidney Bean Extract?
This review is for a dietary supplement called White Kidney Bean Extract from Phase Health. According to the manufacturer, his dietary supplement is a great option for people who want to burn fat when following a low fat or low-carb diet. This dietary supplement is a carb blocker, which means that when you use this supplement your body is not able to digest starches. They are known as amylase inhibitors and they prevent carbohydrates from being absorbed into your body.
Ingredients & How It Works
Chromium Polynicotinate
Phaseolus Vulgaris
Chitosan
Coleus Forskolii Extract
Gelatin
Microcrystalline Cellulose
Magnesium Stearate
When we first examined the ingredients included in this formula, we found that it could be quite effective for individuals who want a product, which could support a weight loss program. However, we believe that there are a few issues with this formulation. There are more additives, preservatives, fillers, and binders included in this formula than we would expect in a product like this. Additionally, the inclusion of gelatin will make this product unsuitable for certain people. Gelatin is derived from animal products so it is not suitable for individuals who adhere to a vegan or vegetarian diet.
Daily Serving
The only information that the manufacturer provides regarding the dosage of this product is that one serving is equal to two capsules. We are not sure if you should take this product with a meal or on an empty stomach. This could have a serious impact on your body's ability to absorb the supplement.
The Cost
You can buy this product for $12.77 from Amazon. You receive a coupon that provides you with 20% off on your first purchase. Additionally, if you subscribe for five purchases you receive another 15% off your purchase.
Guarantee
Unfortunately, we were unable to find any information regarding a guarantee for this product. We feel that this is a large indication that the manufacturer does not trust their product. Companies who believe in the product they deliver are not afraid to assist customers who are not happy with their purchase.
Our Review Summary of White Kidney Bean Extract
In this review, we found that this product might be quite effective for supporting the body in weight loss by preventing starch absorption. This product is relatively well priced and there are varieties of discounts available depending on the extra options you choose. Additionally, this product contains a variety of excellent ingredients that are beneficial for individuals who are following a weight loss program. However, we would be very reluctant to recommend this product due to a variety of issues we uncovered during our research. The manufacturer of this product does not provide sufficient information for this product to be used safely and appropriately. Additionally, this product is not suitable for individuals who follow a strict vegan or vegetarian diet. Finally, we were concerned that you do not receive a guarantee when you buy this supplement.
Well researched reviews, from the experts at Research & You.