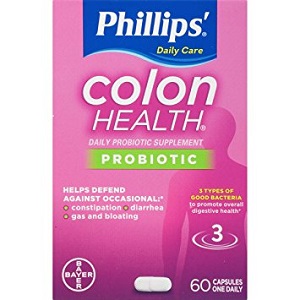 Phillips' Colon Health Probiotic Capsules - Does It Work?-Review
What is Phillips' Colon Health Probiotic Capsules?
This review is going to take a closer look at Phillips' Colon Health Probiotic Capsules in order to learn more about how this product works and to see if it's worth trying out. This product is a colon cleanse that has the additional benefit of Probiotics and is designed to support digestive and immune health. The manufacturer claims that this cleanse can help defend against occasional constipation, diarrhea, gas and bloating. They claim that when taken on a daily basis, they can replenish the good bacteria in your colon and can support digestive and immune health.
Ingredients & How It Works
The only ingredient in this product is a proprietary blend that contains Lactobacillus gasseri, KS-13, Bifidobacterium bifidum g0-1 and Bifidobacterium longum MM-2. This proprietary blend contains three types of good bacteria that are believed to be similar to the beneficial bacteria that live naturally in the digestive tract. The capsules contain a specially formulated blend of two types of probiotics plus Vitamin-B that are believed to offer support for a healthy colon.
Daily Serving
Phillip's recommends taking one Colon Health Probiotic capsule once daily with a meal.
If you are under medical supervision, pregnant or nursing you should consult with your doctor before taking this product.
The Cost
You can purchase this product exclusively from different third-party retailers. We found one 60 capsule bottle of Phillip's Colon Health Probiotic online for $17.96. There are no bulk purchasing packages or discounts. Pricing and bulking purchasing packages will vary according to the retailer you purchase from.
Guarantee
We could not find a manufacturer's guarantee for this product. This is risky because it means that no matter the circumstances, you cannot get a refund from the manufacturer. We advise contacting their customer service to inquire about their up to date return policy, should you choose to move forward with this cleanse.
Our Review Summary Of Phillips' Colon Health Probiotic Capsules
This Colon Cleanse with Probiotics appears to be a decent cleanse that can help regulate your digestive system and can help make it easier to achieve regular and easy to pass bowel movements. It comes in easy to take capsules and it has the addition of Probiotics to help support your overall digestive health. However, consumers claimed that the probiotics in this supplement caused them to experience adverse side effects like abdominal pains and diarrhea. This colon cleanse is not backed by a manufacturer's guarantee which suggests that the manufacturer is not confident in its product's abilities. It is also risky because it means that if you purchase this cleanse and it doesn't work for you, you cannot get your money back. Furthermore, the manufacturer does not offer any bulk purchasing packages in order to make it financially easier to continuously take these capsules. Taking these factors into consideration, you are better off purchasing a colon cleanse that has positive consumer reviews, one that has bulk purchasing options and one that is backed by a manufacturer's guarantee for consumer protection.
Well researched reviews, from the experts at Research & You.