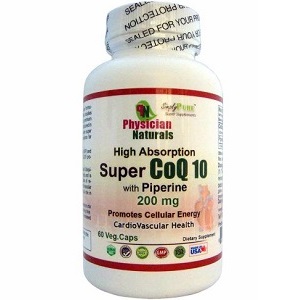 Physician Naturals Trans Super CoQ10 - Does It Work?-Review
What is Physician Naturals Trans Super CoQ10 with Vitamin-E Soft Gels?
When you think of COQ10 as a coenzyme and not an actual enzyme, it may seem to be a 'lesser' nutrient but nothing could be further from the truth. This coenzyme has sparked more interest than almost any other nutrient thanks to it's incredibly far-reaching benefits. And, as it turns out, there is a reason that while COQ10 is present in every cell in the body, it is especially clustered in heart and liver cells: not only is it a major mitochondrial agent, but it is responsible for insulating organs against the likes of bad cholesterol, oxidative stress and more. In other words, this is what you want more of to prevent mental decline, heart disease, ailing organs, bad circulation, low energy levels and more.
The problem is, you automatically lose COQ10 as you age and also if you're on statin drugs. Luckily, COQ10 is readily available in supplement form. The brand we review today is called Physician Naturals Trans Super CoQ10 with Vitamin-E 100mg 50 Soft Gels. It is billed by the manufacturer as an essential antioxidant.
Ingredients & How It Works
Vitamin E
Coenzyme Q10 (CoQ10) ubiquinol 100mg
There are two forms of COQ10 - ubiquinol and ubiquinone. Of these, ubiquinol is the most accessible form for the body, and it has only recently been added to formulas thanks to research that is under a decade old. Not many formulas contain this ubiquinol form. The dose is average compared to what most manufacturers are bringing to market. But what most manufacturers are doing, isn't the yardstick - the dose, as per leading medical opinions, needs to be around the 250 mg mark in order to be effective. On the plus side though, is the inclusion of Vitamin E. Vitamin E enhances bioavailability. It is derived from Omega-3 sources. It also takes the antioxidant power you'll be receiving to the next level. Even so, though, leading research has confirmed that the best way to assure bioavailability is by adding Bioperine. 
Rice bran oil has been used as the suspensive agent. So, while this keeps the capsule vegan-friendly as is a must, it is an additive, which is a 'no' when it comes to medical criteria for COQ10 supplements. The capsules do also contain a soy derivative so if you're allergic, stay clear.
Daily Serving
The manufacturer recommends taking 1 to 2 softgels, 3 times daily, with a meal.
One capsule three times a day take you slightly over the 250 mg dose required. Taking 2 capsules (200mg) 3 times a day would mean you are taking in 600mg a day, which is a much too high a dose. In fact, you would be putting your health at risk. 
The softgels contain beeswax and soy derivatives - if you have adverse reactions to any of these, stay clear.
The Cost
You'll pay $19.95 for one bottle but there are upsell discounts. If you buy three bottles, the effective price is $19. If you buy 10 bottles, the effective price is $18.10 per bottle.
Guarantee
We found no evidence of a guarantee or refunds policy during our research. It always instills more confidence in consumers if the manufacturer does place a guarantee in place - if the manufacturer cannot have confidence in its own products, why should consumers?
Our Review Summary of Physician Naturals Trans Super CoQ10 with Vitamin-E
Trans Super COQ10 with Vitamin E provides you increased protection from degeneration because the supplement contains COQ10, as well as Omega-3, derived Vitamin E. The result is that more of the already favorable form of the compound is taken up by the body to aid circulation, lower blood pressure, strengthen the heart and keep the brain from a declining cognitive state.
It is strange that the manufacturer would advocate the risky dosage of 2 capsules, 3 times a day. At this rate, you'll make your way through a bottle very quickly, pushing up the cost. You'll also be putting your health at risk as too little COQ10 is ineffective, while too much is risky. Allergens are not excluded either - if you're allergic to soy, you can't take this. Being a non-American manufacturer, no GMP certification is present but more worryingly, neither is a guarantee policy. This makes you vulnerable in the event of a dispute regarding the correctness of your order - never mind efficacy - so the prudent thing to do is to confine your purchase to one of the brands that back their supplement with a guarantee. As per medical guidelines, you should also look for a supplement that contains pure COQ10 (which isn't verified in this case) and has Bioperine, which is the best aid to COQ10 absorption. 
Well researched reviews, from the experts at Research & You.