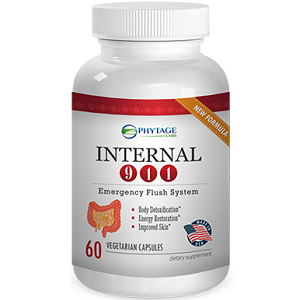 PhytAge Labs Internal 911 - Does It Work?-Review
What is PhytAge Labs Internal 911
This is a review for PhytAge Labs Internal 911, a completely natural and cleansing detox system to purify your gastrointestinal tract and restore the colon so that you can have healthy bowel movements.  It is designed for people who experience constipation, bloating, gas, and other digestive discomforts.  
Ingredients & How It Works
Ingredients for the Proprietary Blend - 1500mg
Psyllium Husk Powder

Bentonite Clay

Black Walnut Hull

Oat Bran Powder

Flaxseed Powder

Prune Powder

Aloe Vera Powder

L. Acidophilus

Apple Pectin Powder

Glucomannan Powder
Secondary Ingredients
Gelatin

Magnesium Stearate

Silicon Dioxide
The ingredient list is 100% natural and good including key cleansing ingredients such as Psyllium Husk, Oats, Prunes, and Apple Pectin, as well as L.acidophilus, the probiotic used for regulating and balancing pH levels and healthy bacteria in the stomach for long-term intestinal health and constipation prevention.  Psyllium is a husk powder that provides gentle soluble fiber; Bentonite Clay detoxifies the colon; Black Walnut Hull is a natural laxative which fights parasites; Oat Bran Powder contains fiber to prevent constipation; Flaxseed is rich in omega-3 fatty and lubricates the digestive system.
Daily Serving
The product label states to take two capsules daily with a meal and that the supplement is intended for adults (not for children under 18 years of age).  Individuals who are pregnant or nursing, and those taking medications or with medical conditions should not use this product.
The product is manufactured in a facility that processes mil, soy, wheat, egg, peanuts, tree nuts, fish, and crustacean shellfish.  There are 60 tablets per bottle and therefore one bottle will last only a half of a month.
The Cost
The manufacturer's website lists a 60-count capsule bottle of Internal 911 at $120, but there is always an $80 discount and therefore it is sold for $69.95. Two bottles can be purchased at a discount of $59.95 for each bottle; 4 bottles can be purchased for a further discount of $49.95 for each bottle. The manufacturer provides free shipping to the United States.
We were unable to find this product available for purchase on third party websites. Our overall sense is that this is an extraordinarily high priced supplement, and the manufacturer attempts to justify the costs, but consumers would need to be prepared to pay for two 60-count bottles per month.
Guarantee
The manufacturer offers a 90 days money back guarantee.  Customers are directed to return the product to get the refund.
Our Review Summary Of  PhytAge Labs Internal 911
Made in the USA, Internal 911 is a solid all natural supplement with laxative quantities designed to cleanse the colon and relieve constipation.  It has an impressive list of key ingredients used for cleanings.  We were not able to find large numbers of customer reviews about the product which is important to note as typically if there are satisfied customers, manufacturers always choose to highlight this fact.  There is no question that the manufacturer's price for the product is significantly higher than other competing products in the marketplace which carry even more attractive satisfaction guarantees of up to a year.
Well researched reviews, from the experts at Research & You.