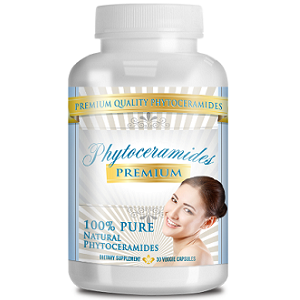 Phytoceramides Premium - Does it Work?-Review
What is Phytoceramides Premium?
As we start to age, fine lines begin to appear and our skin slowly becomes wrinkled. We all want to feel healthy and young, but sometimes feeling that way is difficult in the face of aging skin. There are products all over the market that claim to restore healthy looking skin, but none like Phytoceramides Premium. The following review is for a product called Phytoceramides Premium. Phytoceramides Premium aims to restore healthy and vibrant looking skin so that you can feel confident and healthy!
Ingredients & How it Works
The following ingredients are contained in Phytoceramides Premium:
How do these ingredients work?
Our bodies contain something called ceramides, which are found within the lipid layer of our skin. Ceramides help contain tissue moisture for continuous hydration. As a benefit, it helps keep our skin smooth, vibrant, and wrinkle free. As we begin to age, we lose ceramides. This leads to wrinkles and dryness. The good news is that ceramides can be extracted from wheat and taken as a supplement to increase ceramide levels, which then helps restore that youthful and vibrant look we all want.
Vitamin E is an essential vitamin for correcting wrinkles and restoring moisture and repairing damaged skin.
Rest assured that there are no added fillers, binders, or additives, which means that you are putting only the purest ingredients inside your body.
Daily Serving
The recommended daily serving is 350 mg, once a day. This is the safest and highest dosage.
The Cost
You can purchase Phytoceramides Premium conveniently online. There are many different packages offered. There is the "Samplers Package" which comes with one bottle for a one month supply. This package costs $48. The second package offered is the "Beginners Package". This package comes with two bottles, and one free bottle, costing $91. The "Moderate Package" comes with two bottles, and two free bottles, costing $112. Lastly, their "Best Selling Package" comes with three bottles, with an additional three free bottles, costing $138.
Guarantee
The manufacturer is so confident that this product will work for you, they offer a 90-day money back guarantee. Keep in mind that this product may take up to a month for results; however, some people have reported that they've seen results in as little as one week.
Our Review Summary of Phytoceramides Premium
We believe that this is the best product on the market, for an array of reasons. This supplement is produced in an FDA registered lab, that is also cGMP certified. It also complies with US Pharmacopeia's quality standards. It contains all of the proper and purest ingredients, without added fillers, binders, or additives, to ensure that your body and skin are receiving the best care. It's simple. If you are not satisfied with this product, you have a full 90 days to return it for a full refund. We are confident that this product is not only the best on the market, but that it will also work for you!
Well researched reviews, from the experts at Research & You.