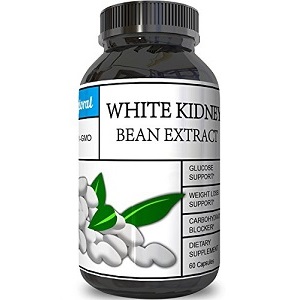 Phytoral White Kidney Bean Extract - Does It Work?-Review
What is Phytoral White Kidney Bean Extract?
The following review is for a product called Phytoral White Kidney Bean Extract, a supplement designed to help you lose fat by blocking carbs from going through your bloodstream. The White Kidney Bean contained in this product makes this possible by blocking starch digestion, and therefore reducing the conversion of starch into fat. It also reduces cravings and suppresses appetite.
Ingredients & How It Works
This product contains an amount of 1200mg of White Kidney Bean.
White Kidney Beans are among the best natural supplements used for weight loss, partially due to their high fibre content. They act as starch blockers, inhibiting the starch-digesting enzyme, which would normally turn starch into absorbable sugar.
Other ingredients: Vegetable Cellulose, Rice Flour and Magnesium Stearate.
Daily Serving
The recommended dose is 2 capsules taken two times a day before each of your two biggest meals for the day. This means that you take four capsules a day, which then means that the bottle of 60 capsules that the manufacturer is offering you can only last you 15 days.
Cost
Phyrotal White Kidney Bean Extract can be purchased from one of the major online retailers for $10.44 per bottle. You get 15% off if you purchase two bottles. As the bottle of 60 can only last for 15 days, you are obliged to buy two bottles if you want a month supply, which then costs you more money. However, it is still not bad considering that you get a discount if you buy two bottles.
Guarantee
We tried accessing the manufacturer's website using the address found on the label of the product, but we could not connect to it. That is concerning, as it does not make sense how a website cannot be accessed. This meant that we could not access information about the manufacturer's policies, including guarantee, if they even have one. Therefore, we cannot say whether the guarantee exists or not.
Our Review Summary of Phytoral White Kidney Bean Extract
Phytoral White Kidney Bean Extract can be potentially effective for weight loss, considering that it contains a natural ingredient, and one that is known for its benefits in one's health. However, we have few concerns about this supplement. Research indicates that white kidney beans seem to be effective in people who eat a lot of carbohydrates and not in those that eat less carbohydrates. In that case one cannot trust that it will work for them because there is no indication as to how much is a lot or less carbohydrates.
We are concerned about how this supplement might affect your health because white kidney beans are known to lower blood sugar levels, which means that it is not safe for those who are diabetic. This is even worse when they are on diabetes medication because it is also meant to lower blood sugar. More evidence show that it might also interfere with blood sugar levels during and after surgery. We tried accessing the manufacturer's website with no success. Therefore we could not find more information about their policies. There is also no indication of the manufacturer's money-back guarantee on the third-party retailer's website. Despite not being able to connect to the manufacturer's website, the side effects and lack of information on the guarantee are signs that it is risky to buy this product. We recommend that you look for something that is more reliable.
Well researched reviews, from the experts at Research & You.