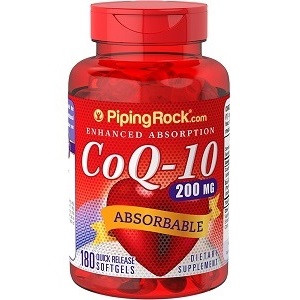 Piping Rock Absorbable CoQ10 - Does It Work?-Review
What is Piping Rock Absorbable CoQ10?
This review focuses on a dietary supplement called Piping Rock Absorbable CoQ10. Coenzyme Q10 (CoQ10) is a compound found within every cell in the body. Levels of this compound decrease as one gets older. The manufacturer claims that this product can help replenish the levels and help support a healthy heart. Find out more about Piping Rock Absorbable CoQ10 by reading our full review below.
Ingredients & How It Works
Coenzyme Q10 (Ubiquinone)
Black Pepper Extract
Rice Bran Oil
Gelatin
Vegetable Glycerin
Soy Lecithin
Annatto Extract (Natural Color)
Titanium Dioxide (Natural Color)
The main active ingredient in this product is Coenzyme Q10. This ingredient helps provide support for a healthy heart by replenishing the essential CoQ10 levels in the cells of the body. Also found in this product is black pepper. This is essential to help increase absorption. However, this ingredient consists out of 95% piperine. It is essential to contain 100% BioPerine for optimal absorption and bioavailability. Lack of the correct ingredient and concentration may cause the product to be less effective than other products that do contain it.
Daily Serving
An adult is recommended to take 1 quick release softgel, one to two times per day. It should preferably be taken with a meal. The only crucial information lacking here is the fact that a user does not know if it is best taken in the morning, afternoon, or evening. It is also noteworthy that one capsule will provide a user too little CoQ10 and two capsules will provide an overdose. The safe recommended amount is 250 mg.
The Cost
Piping Rock Absorbable CoQ10 can be purchased online from the manufacturer's website. However, the product is temporarily out of stock. If one were able to purchase the product, it would cost $25.19 after 30% discount. The original price is $35.99 for 180 softgels. One bottle could last a customer for more than 3 months. In comparison with other products, this price is very low for the amount of capsules. It may indicate low quality ingredients or lack of confidence in the effectiveness by the manufacturer.
Guarantee
Domestic customers may return the unused portion of the product for a full refund, if you are not completely satisfied. The product must be returned within a year from the date of purchase. Furthermore, customers must include a short explanation as to why they are returning the product. Having to add a reason for returning the product can cause issues as they manufacturer also states that one may return the product if not satisfied and a refund will be given. The statements contradict one another and may cause confusion.
Our Review Summary Of Piping Rock Absorbable CoQ10
We have found a few things that we like about Piping Rock Absorbable CoQ10. It comes in easy to swallow softgels and the manufacturer offers a 30% discount on their product.
There are however many more negative aspects about this product that cannot be overseen. Firstly, the product does not contain pure BioPerine for increased absorption. Furthermore, the dosage provided by this product will either be ineffective or may be dangerous to your health. Finally, the manufacturer provides a guarantee that contradicts itself, which may cause refusal of a refund. For these reasons, we do not recommend Piping Rock Absorbable CoQ10.
Well researched reviews, from the experts at Research & You.