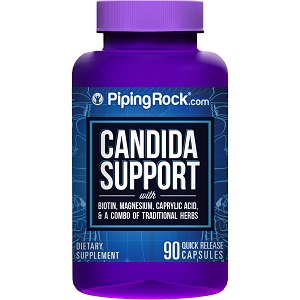 Piping Rock Candida Support - Does It Work?-Review
What is Piping Rock Candida Support?
When the balance of yeast and bacteria in your body is thrown off it causes yeast cells called Candida albicans to multiply and turn into a yeast infection. Common symptoms of a yeast infection include itching, discolored discharge, burning and pain while urinating, soreness, rash and swelling around the vagina. This review is going to take a closer look at Piping Rock Candida Support to learn more about it and to see how it can help treat symptoms of a yeast infection. Candida Support is a dietary supplement made up of a variety of ingredients that are designed to restore a balance of bacteria and yeast to your system. The manufacturer claims that taking this supplement will help balance intestinal flora, help with food digestion and promote detoxification which can help prevent yeast infections.
Ingredients & How It Works
Biotin (as d-biotin) - 2,000 mcg

Magnesium (from magnesium caprylate) - 42 mg

Caprylic Acid (from magnesium caprylate) - 500 mg

Pau D'Arco (tabebuia impetiginosa) - 195 mg

Deodorized Garlic (Allium sativum) - 80 mg

Oregano ( Origanum vulgare) - 80 mg

Wormwood (Artemisia annua) - 80 mg

Dong Quai (Angelica sinensis) - 74 mg

Peppermint (Mentha piperita) - 74 mg

Black Walnut (Juglans nigra) - 32.5 mg

Turmeric (Curcuma longa) - 32.5

Ginger (Zingiber officinale) - 1 mg

FOS (Fructooligosaccharides) - 1 mg
Other Ingredients: Gelatin Capsule, Rice Powder, Vegetable Magnesium Stearate, Silica.
The manufacturer claims that their product is effective because of its blend of Black Walnut, Pau D'Arco, Oregano, Biotin and Caprylic Acid. Together, the manufacturer claims that they can help enhance the balance of the beneficial bacteria in your intestines.
Daily Serving
The manufacturer recommends adults take 2 capsules twice daily, preferably with meals.
If you are pregnant, nursing, or under medical supervision, you should speak with your doctor before taking this supplement.
The Cost
You can purchase this supplement on the manufacturer's website and from third-party retailers. One 90 capsule bottle is available to purchase on the manufacturer's website for $8.39. There are no bulk purchasing packages or discounts offered.
Guarantee
Piping Rock offers a full year to return your unopened or opened bottles. You must write an explanation as to why you are dissatisfied before getting a refund and they do not cover the shipping costs.
Our Review Summary Of Piping Rock Candida Support
Piping Rock Candida Support appears to be a decent supplement. It comes in easy to take capsules for convenience and the price per bottle is relatively low. However, a person can potentially take a supplement to maintain a balance in their system daily for an extended amount of time but the manufacturer does not offer any bulk purchasing options to make it easier to choose their supplement. While the price seems fair, if you follow the manufacturer's dosage instructions, one bottle will last you less than a month. Furthermore, it seems that you are getting what you're paying for because we noticed that some of the amounts of the key ingredients that we commonly find in Candida supplements are significantly lower than most others we have seen. It brings us to question whether or not there is enough of each key ingredient to be effective. You are better off purchasing a well-known supplement that has good bulk purchasing options and effective amounts of ingredients.
Well researched reviews, from the experts at Research & You.