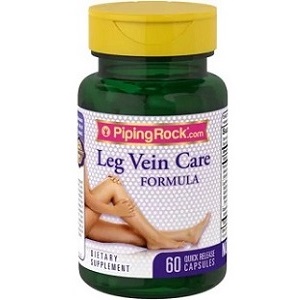 Piping Rock Leg Vein Care Formula - Does It Work?-Review
What is Piping Rock Leg Vein Care Formula?
Piping Rock Leg Vein Care Formula claims to offer a solution for varicose veins and relieve the symptoms associated with this common and painful vein condition. The symptoms often associated with varicose veins include swelling, itchiness, 'heavy legs', as well as unsightly veins visible on the legs and feet. Can this product offer a total care solution for varicose veins? Is it better than competing brands? The following review will reveal the answers to these questions and more.
Ingredients & How It Works
Vitamin C - 70 mg
Horse Chestnut Extract - 400 mg
Leg Vein Care Proprietary Blend - 300 mg
Grape Seed Extract - 40 mg
This product contains many beneficial ingredients often included in varicose vein solutions. Vitamin C, for example, promotes blood flow and vein flexibility to reduce the appearance of veins. Horse Chestnut Extract also promotes blood circulation and reduces painful inflammation. The proprietary blend contains Butcher's Broom and Bilberry, known to reduce inflammation too. While these ingredients are beneficial, they are only administered as a supplement. Superior brands tend to offer both an internal and external solution, providing a topical cream for additional symptomatic relief. The formula also includes rice powder, a thickening agent, which may inhibit the efficacy of the active ingredients. Furthermore, there is no note of this product being vegan-friendly, cruelty-free, having gone through third-party testing, or being manufactured in a cGMP certification facility. This is a concern as it may indicate that quality and ethics were not a priority during production.
Daily Serving
To use as a dietary supplement, adults are to take 2 capsules daily with food. We are uncertain if these need to be taken at once or not. The concentration of the key active ingredients appears to be sufficient. It is advised that pregnant and nursing mothers, those under the age of 18, as well as those with liver or kidney issues to not use this product. Be sure to consult your doctor before use.
The Cost
This product can be bought directly from the Piping Rock website. 1 bottle contains 60 capsules (which will last 1 month) is currently on sale for $7,35 (₱ 392.63). This is rather cheap and may suggest that low-quality ingredients and processes were used to allow such a low price. Otherwise, there is no package offers available.
Guarantee
Piping Rock appears to be based in the Philippines (based on the currency used on the manufacturer's website) state that international orders are only eligible for returns after a 60-day period. The manufacturer states that if the product is not worth more than the hassle to retrieve it, they reserve the right to discard the return. The products low price, as well as the 20% restocking fee, means that there is a high likelihood of your return being discarded. This is a concern. Furthermore, there are no customer reviews available to vouch for product efficacy.
Our Review Summary Of Piping Rock Leg Vein Care Formula
Piping Rock Leg Vein Care Formula contains popular ingredients used for varicose vein solutions that are also adequately dosed. However, the lack of GMP certification, as well as the cheap price, may indicate that poor-quality ingredients where used. This is a concern as it may inhibit the efficacy of this product. Furthermore, the product is lacking a complementary topical cream to support symptomatic relief, the manufacturer guarantee offers no real customer support, and there are absent customer reviews. In saying so, we do not recommend this product. 
Well researched reviews, from the experts at Research & You.