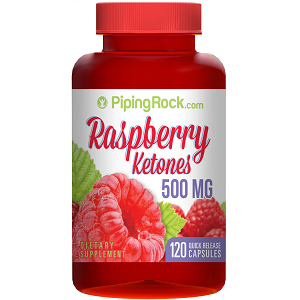 Piping Rock Raspberry Ketones - Does It Work?-Review
What is Piping Rock Raspberry Ketones?
This review is going to take a closer look at Piping Rock Raspberry Ketones to learn more about how it works and to determine whether or not it's a worthwhile supplement. This product is a Raspberry Ketones supplement that is designed to help you lose weight. Raspberry Ketones supplements became popular to take after they were endorsed by a popular American TV doctor. The doctor claimed that Raspberry Ketones can help you lose weight without needing to make any changes to your routine. It is believed that Raspberry Ketones aid in weight loss by producing a hormone that speeds up your metabolism and by making it easier for your body to burn fat.
Ingredients & How It Works
The only active ingredient in this supplement is Raspberry Ketones. Every serving contains 500 mg of Raspberry Ketones and comes in gelatin capsules. Ketones are the element in red raspberries that give them their red color and fragrance. Despite its name, this supplement is not derived from raspberries, rather, it is synthetically made because one kilogram of natural compounds costs around $20,000 and is equivalent to 90 pounds of raspberries.  Raspberry Ketones are believed to aid in weight loss by increasing levels of adiponectin, which is a hormone that helps regulate your metabolism and helps your body burn fat faster. It is also believed to cause fat within cells to be broken down effectively which will help your body burn fat faster.
Daily Serving
The manufacturer recommends taking one capsule, twice daily and preferably with a meal.
If you are pregnant, nursing, or under medical supervision, you should talk to your doctor before taking this supplement.
The Cost
You can purchase one 120 capsule bottle on the manufacturer's website for $8.30. They do not offer any bulk purchasing packages or discounts offered.
Guarantee
Piping Rock offers a one-year money-back guarantee on opened and unopened bottles. You have to submit a written explanation as to why you are requesting the return and receive authorization.
Our Review Summary Of Piping Rock Raspberry Ketones
This supplement appears to be a decent tool that can potentially help you lose weight. Every serving has a decent amount of Raspberry Ketones and it comes in easy to take capsules. However, there are very few consumer reviews available on this product which suggests to us that it might not be a popular option. The reviews that we did see are mixed. Some consumers claimed it worked for them but others labeled this product a waste of money that does not work. Furthermore, depending on the severity of each individual case, some will need to take this kind of supplement over an extended amount of time, depending on how much weight they have to lose but the manufacturer does not offer any bulk purchasing options to make it financially easier to choose this supplement. Taking these factors into consideration, you are better off purchasing a supplement that is well-known, has positive consumer reviews and one that offers bulk purchasing options.
Well researched reviews, from the experts at Research & You.