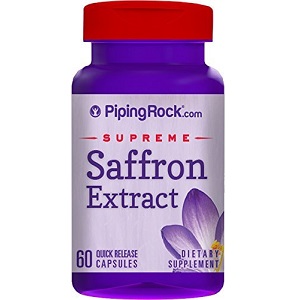 Piping Rock Ultimate Saffron Extract - Does It Work?-Review
What is Piping Rock's Ultimate Saffron Extract?
This is a review of the product Ultimate Saffron Extract. This product is manufactured by Piping Rock. The product claims to be the best saffron supplement for weight loss. It acts by suppressing the natural appetite. Furthermore, the makers of this supplement claim that capsules are convenient to use, and quick-releasing.
Ingredients & How It Works
The only active ingredient is saffron extract (88.50mg). Saffron helps to suppress hunger cravings, including those causing emotional over-eating.
Other, inactive ingredients, include cellulose, gelatin, vegetable magnesium stearate, and silica. It should be noted that this product contains gelatin, making it unsuitable for vegans or vegetarians.
Daily Serving
The recommended dose for an adult is one capsule twice a day, mornings and evenings, with food. However, the supplement is unsuitable for pregnant women or nursing mothers. In addition, those taking anti-coagulants or anti-platelet medication, or suffering from a bleeding disorder or kidney disease, should first consult their doctor before taking this supplement. If any adverse effects are experienced, such as dizziness, nausea, vomiting, diarrheoa, numbness, yellowing of the skin or eyes, or spontaneous bleeding, one should cease taking this product.
The Cost
Ultimate Saffron Extract, by Piping Rock, is available to buy online directly from the makers at $7.48 for a 60-capsule bottle. This is a discounted price: their current sale price is 30% off. Otherwise, 2 bottles may be bought for $13.55. However, the company does not offer discounts on larger bulk deals. Third-party sites such as Amazon also stock this product. Prices may differ; however, discounted rates on this supplement may be on offer.
Guarantee
The manufacturer offers a solid guarantee for customers in the United States, in that they are allowed 1 year in which to return the product, provided that an explanation accompanies the return. On the downside, international customers only have 60 days to decide whether the product is effective for them, before their guarantee expires. In addition, international customers will have a shipping fee and a 20% re-stocking fee deducted from their credit.
Our Review Summary Of Ultimate Saffron Extract
Ultimate Saffron Extract, by Piping Rock is a dietary supplement that offers an acceptable amount of saffron per capsule. There is also a 30% discount offer on the company's website for two bottles of this product. However, this formula is not suitable for vegans and vegetarians as it contains gelatin. In addition, the ingredients themselves are a bit questionable. Although this product contains a pure extract form of saffron, the capsules also contain fillers and binders. Therefore, some of the quality of the product may have been reduced. This could make it less effective than other, better quality, saffron supplement products. Therefore, it would better to go for a supplement that does not contain filler and binders in their formula.
Well researched reviews, from the experts at Research & You.