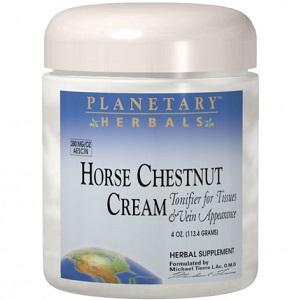 Planetary Herbals Horse Chestnut Cream - Does It Work?-Review
What is Planetary Herbals' Horse Chestnut Cream?
Horse Chestnut Cream aids skin toning, strengthens veins and supports capillary integrity, improving the appearance of varicose veins. This review focuses on the claims the manufacturer makes on goals of the treatment.
Ingredients & How It Works
The active ingredients are:
Horse chestnut seed extract – Packed with antioxidants, this herb is known to strengthen the capillaries, supporting normal blood flow, and to help assist the normal exchange of liquids through cell membranes.
Butcher's broom leaf extract – This herb helps with circulation. Witch hazel bark extract – This herb helps tone the skin and provide deep moisturizing.
White oak bark extract – This substance helps with circulation.
Myrrh gum extract – This is an aid to good circulation.
Rosemary leaf oil – This substance improves local blood circulation and relieves pain. The manufacturer of this treatment does not declare the individual quantities of the active ingredients.
Other ingredients: purified water, aloe vera leaf gel, glyceryl stearate (emulsifier), caprylic/capric triglyceride (emollient), glycerin, stearic acid, beeswax, cetyl alcohol, cetearyl alcohol, methyl glucoses (from sugar plant), lecithin phospholipid, jojoba seed oil, tocopheryl acetate (natural vitamin E), benzyl alcohol (preservative), phenoxyethanol (preservative), xanthan gum, grapefruit seed extract. Some of the additional ingredients could lead to an allergic reaction. For instance, people with a bee allergy may be advised not to use this product, as it contains beeswax.
Daily Serving
The manufacturer recommends that this topical cream be massaged gently into the skin mornings and evenings. This should be done for at least a 6-week period.  No mention is made of how much product should be used. However, the maker does warn that those pregnant, or nursing, should speak to their doctor before using this treatment. In addition, this product is not suitable for children.
The Cost
Horse Chestnut Cream is obtainable through local retailers or from health and dietary supplement online stores, not directly from the manufacturer. The company has a recommended sale price. A tub of 2 ounces of Horse Chestnut Cream should sell at $12.50, and a 4-ounce tub at $32.50. No discounts on bulk sales are offered.
Guarantee
The manufacturer offers a 100% satisfaction guarantee. However, the item must be returned to the outlet at which it was bought for a replacement or a store credit – no refund is offered.
Our Review Summary of Horse Chestnut Cream
Having varicose veins can be unsightly and painful. Applying a cream that contains ingredients known to help sounds positive. Our research found that 90% of the reviews on Amazon may be trusted. This would indicate an effective product. However, there are some drawbacks. Firstly, the product may not be bought directly from the manufacturer. This is inconvenient, especially as the company has set a retail price. The company's satisfaction guarantee is misleading in that a full refund is not offered, only a store credit or a product replacement. Lastly, there are some ingredients that could result in an allergic reaction,for instance the beeswax.  It is with that we would suggest, and based on so many other similar products on the market, this product just doesn't match them.
Well researched reviews, from the experts at Research & You.