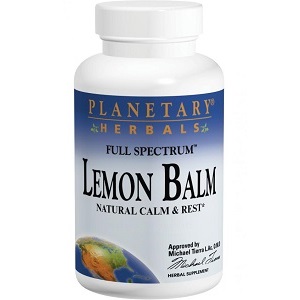 Planetary Herbals Lemon Balm - Does It Work?-Review
What is Planetary Herbals Lemon Balm?
This is a comprehensive review of a dietary supplement called Planetary Herbals Lemon Balm. Certain individuals may be suffering from insomnia. To help one fall asleep faster and stay asleep for longer, the manufacturer decided to develop this supplement. It claims to relieve stress and occasional anxiety, whilst also supporting a restful sleep. To find out more about the ingredients in Planetary Herbals Lemon Balm and other benefits, keep on reading.
Ingredients & How It Works
Planetary Herbals Lemon Balm contains one main active ingredient, namely lemon balm leaf extract. They claim that this ingredient helps to temporarily relieve stress from the day as well as occasional anxiety and provide a calm feeling and positive mood. From the research we have done, is seems like the supplement does not contain any clinically proven ingredients. These include melatonin, valerian, hops, L-ornithine, or taurine. Without these key ingredients, the product may not be as effective as other brands.
Daily Serving
The recommended daily serving, as provided by the manufacturer, is to take 2 capsules per day. There is no other information provided. Customers will not know if the product must be taken all at once and if it should be taken with a meal or on an empty stomach.
The Cost
The product is available from many different online retail stores. The manufacturer has provided a list of these stores on their official website. A few include iHerb, LuckyVitamins, and BestVite. The price for the supplement ranges between $8.39 and $15.75 for 60 capsules. However, the manufacturer's recommended retail price is $11.98 for 60 capsules. It is also sold in a bottle of 120 capsules for $22.50. When looking at other insomnia supplements, this price for this product is very low. This may indicate that the supplement does not contain effective ingredients that are of high standards and quality.
Guarantee
The manufacturer offers a 100% satisfaction guarantee. If you are not happy with the quality of the product, you may return it. In most cases, you will be provided with a replacement or store credit. This indicates that you will not necessarily be refunded and also not for products that have been opened or used from. Customers will be left at risk due to the manufacturer's lack of a solid return policy.
Our Review Summary Of Planetary Herbals Lemon Balm
In concluding our review of Planetary Herbals Lemon Balm, we have found that the manufacturer provides the customer with easy to swallow capsules.
Unfortunately, we have found many more things that we are rather concerned about. First of all, the product is priced very low in comparison with other products which could indicate the use of low-quality ingredients. In addition to this, the product does not contain any clinically proven ingredients to make a well-rounded and effective insomnia supplement. Furthermore, the daily dosage instructions are not very clear and may prevent the supplement from working effectively. Finally, the manufacturer fails to back their product with a strong guarantee. It may indicate that the manufacturer does not believe in the effectiveness of the supplement.
These drawbacks lead us to believe that Planetary Herbals Lemon Balm is not a very wise choice to make. There are many more alternative supplements on the market that one can choose from.
Well researched reviews, from the experts at Research & You.