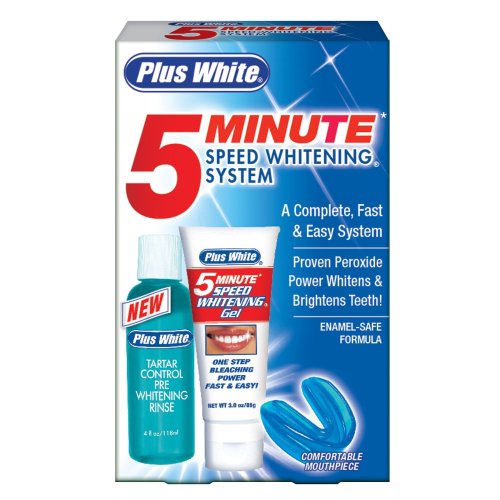 Plus White-Review
The market has a variety of teeth whitening products available, and Plus White is one of the popular DIY products in this niche. It offers users great value for money as it's very affordable. However, just because, it is economical in terms of money, doesn't make it more reliable. There are so many products out there that are overrated in terms of advertising; is this particular product one of those products?
About the Product
The product comes in two versions. You could opt for the gel made from peroxide which comes in a tube or get a mouth-tray which you can re-use. The second version available is the two step system. It is in a box kit, together with the gel and tray, the product is inclusive of a tartar control rinse for pre-whitening. It's quite costly compared to the former. Many users have shown a keen interest in the gel as it works okay for them.
How it Works?
This whitening system that comes in a kit states with a lot of emphasis that, the product works in a span of five minutes. Well, the five minutes emphasis can mislead you into thinking that, that is all you need to get results. Well, you will be required to apply the given gel on the teeth and let it stay for five minutes, this will need to be done two times a day, and in two weeks, you can be assured to see changes. So it is not the five minutes to be precise. There's a hint of false advertising in all this. Plus White has really made a home for itself in the market by using the "five minutes" advertising slogan. The reviews are quite positive with users loving the results and recommending it to others. With continued use of the gel, the stains in the teeth continue to come off, and the result is brighter teeth.
How much it Costs?
The Plus White teeth whitening product is really cheap, if you are to compare its cost with that of visiting the dentist. Though the dentist will be expensive, the results will be far much better and fast. The Plus White option will cost you $5 per tube; they have really done it in terms of making it affordable and efficient for its users. $11 is what you will have to cough up for the two-step one option.
How You Make it Work?
Plus White should not get too comfortable, as a DIY product it has its share of advantages and disadvantages to the user. It may appear less tasking and more precise using the product but some users have complained about the mess created when spreading the gel onto the tray and then putting it in the mouth. It is also a setback that the product comes with a single size, making it incongruous while fitting it in the mouth. Some users recommended that people should buy mouth guard instead of relying on the tray. Some users really complained about the stinging sensation that is present when using the product. People with sensitive teeth and others alike should have read through the part that says "it is best kept away from the gums". That is quite tricky as it is a gel and space in between the teeth is limited. Speaking from experiences, it is advisable to use the gel sparingly. Ensure that the gel you spread on the guard is not too much to avoid spreading to the gum once you have inserted it. Many people, however, attested to the gel stinging their gum as they used it. The gel should not be runny. If you notice that the gel is not well diluted, shake it up, and if that does not work, take it back.
Final Review
Plus White sure does work. The timing promised in the adverts is, however, overrated. It will only work when used for more than the stated five minutes, around twenty minutes to be precise. The people with lighter teeth stains will benefit a lot, for those with serious stains getting results might seem a bigger or a fruitless task. For faster and more apparent results, it is suggested that you use it with toothpaste during regular brushing. Plus White is worth your every dime as it is a teeth whitening product that works. If your teeth are badly discolored and stained, then a dentist would be a preferable option to handle your case. It's a good idea as it will act as a good follow up strategy to keep your teeth white for the long haul. For moderate stains and yellowing then go for this product, the try will be well worth it. Patience will be required. Results do not come instantly, and keep using it, and you will get results in the long run.
Well researched reviews, from the experts at Research & You.