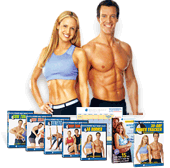 Power Half Hour-Review
About the product
The power half hour program is an exercise program that consists of several videos each of which concentrate on working out specific body areas. Each of the workouts last only thirty minutes, and are hosted by Tony Horton who has done several other beachbody systems. There has never been an agreement as to what time period is suitable for a proper workout. Some health gurus will argue that it is 20 minutes while others insist that it is 40 minutes. Whatever the case, the power half hour program seems to have found a medium between the two. However, the reality is that it doesn't matter how long a work out is. The most important thing is that you get up and get moving. The program is made to be both fun and fast with the exercise routines maximizing on time and ensuring that you have an effective workout session. You won't believe how fast time will fly as you do the routine. The exercise routines use a power shaping technique which is a combination of cardio workouts, which keep the heart rate up, as well as sculpting exercises. By combining both, the program reduces the amount of time needed for exercise while still achieving the same results as longer workouts. The workout has been divided into five segments each targeting different body areas. This means that you can personalize it to fit your needs.
How It Works?
Like most other programs, this one consists both of an exercise routine as well as the nutritional section. The exercise section has been made to specifically target five major areas that people struggle with yet are very important both in terms of health and looks. The five areas are as follows: The Ab burner: this is perhaps the most important problem area especially because most people find it hard to lose fat in the midsection area. With this system, enough emphasis is given to this area to ensure that after the program you are left with abs that others will be envious of. The arm toner: most people who have lost weight without proper exercise usually end up with that dreaded bat wing look on their arms; which is not very attractive. The arm toner exercise routine targets the arms to give you attractive well toned arms. The bun shaper: for most women, having the perfect behind is something that they long for. The bun shaper concentrates on this section which is quite difficult to work out. Thigh trimmer: shapely well toned thighs give women confidence to wear those skinny jeans and short skirts and dresses with confidence and this exercise is perfect for trimming those thighs. Power stretch: when you concentrate on toning alone without any stretching you may end up with bulky muscles. The power stretch counteracts this leaving you with sleek muscles instead of bulky ones. The second part of the program includes a nutritional guide to help you choose your foods wisely as well as educate you on what food are healthy for you especially if you are to get the best results from the program. An addition to this is the tracking chart which acts as a motivation for you because it helps you track how far you've come into the system and how much progress you have made. It also shows you how much further you need to go to complete.
How much it costs?
If you want to have the whole system shipped to you, then it'll probably cost you $50 which is broken down into two for convenience. The first will cost you $30 while the second month's payment will cost you only $20. Fifty dollars for the whole thing is quite a bargain.
How you make it work?
Although the system may require you to only work out for 30 minutes each day, it doesn't mean that the rest of the day you are free from the program. The only way you can make the program work is if you fully commit yourself to both the work outs and the nutrition guide that is provided. Although everyone is different, one area that most people find hard to commit to is the nutrition guide. Most people would rather do the exercise and forgo the nutrition guide, but for the program to work properly, the two must go together. If you know you will have a problem following one part of the program, you can choose to start with that part only until you get used to it and then later when it is not so hard for you, you can incorporate the other part.
Final review
The power half hour program looks like a legitimate and safe way of staying healthy. It is one of those programs which can guarantee excellent results if followed to the letter. Tony Horton is also a really good trainer, and he keeps you motivated to push harder in order to get the body that you want.
Well researched reviews, from the experts at Research & You.