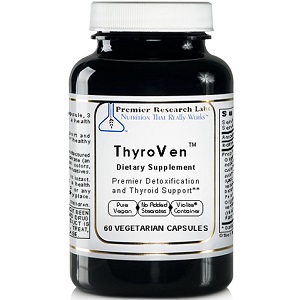 Premier Research Labs ThyroVen - Does It Work?-Review
What is Premier Research Labs ThyroVen?
This is a review of Premier Research Labs ThyroVen, a thyroid formula designed to provide nourishment to maintain healthy thyroid functions and ensure optimum thyroid health.  ThyroVen has been designed by the manufacturer to use premier nutrients that when combined together with naturally occurring iodine, can have positive effects on an unhealthy thyroid.
Ingredients & How It Works
Primary Ingredients
Iodine  - 140 mcg

Proprietary Blend - 436 mg - Organic Kelp (whole) (Ascophyllum Nodosum), Organic Irish Moss (whole) (Chondrus Crispus), Bear Garlic (leaf) (Allium Ursinum), Motherwort (herb) (Leonurus spp.), Organic Bladderwrack (Frond) (Fucus Vesiculosus), Organic Chlorella (whole; broken cell wall) (Chlorella Sorokiniana), Organic Fennel (seed) (Foeniculum Vulgare), Organic Turkey Tails (whole) (Coriolus Versicolor), Oregano (leaf), Organic Turmeric (Rhizome) (Curcuma Longa), Organic Parsley (leaf) (Petroselinum Crispum)
Secondary Ingredients
This appears to be a good ingredient list, with no added stearates and is purely vegan. The Proprietary Blend has 436 mg per capsule has an impressive list of ingredients but unfortunately, we cannot be sure how much of each ingredient is included.  
We were surprised to see that ThyroVen has 140 mcg of naturally occurring Iodine in each capsule so that the total daily iodine intake is 420 mcg.  Given our research, this seems excessive and could cause adverse effects.  And with such an impressive ingredient list, it is missing Selenium, Magnesium Molybdenum, Vitamin B-12, and L-Tyrosine which are known to be important ingredients in thyroid supplements for optimal thyroid support.
Daily Serving
Instructions on the bottle state to take 1 capsule three times a day (for a total of 3 capsules a day) or as directed by a healthcare professional.
The Cost
The manufacturer sells one 60-ct capsule bottle for $19.95 plus over $10 for shipping.  Third party websites sell the product for $24.15.  We could not find any options to buy multi-packs of ThyroVen which is unfortunate as each bottle will last a customer for only 20 days.
Guarantee
The manufacturer offers what we feel is a spotty guarantee, and it's for first-time customers only. Customers should review the policy as it's complicated.  In short, though, they are upfront is sharing that they do not offer an unconditional 30-day money-back guarantee, Customers may receive full credit on one opened bottle per product type for us to two different product within 30 days.  Full credit will be given for any unopened bottles received in good condition.
Our Review Summary Of Premier Research Labs ThyroVen Dietary Supplement
Made up of organic ingredients with high levels of nutrition, ThyroVen is designed to help provide nourishment for the function of a healthy thyroid.  We could not find user reviews on the manufacturer's website and reviews on third-party reviews were not overwhelmingly positive with customers complaining that the capsule had a rather repulsive smell and taste (like garlic) causing them to feel nauseous and sick - and even causing acid reflux.  With thyroid supplements that are cheaper widely available in the marketplace, customers will want to learn about these products which have both lower levels of iodine and come with satisfaction guarantees by the manufacturer that inspire confidence in the product and allow users to purchase the products risk-free.
Well researched reviews, from the experts at Research & You.