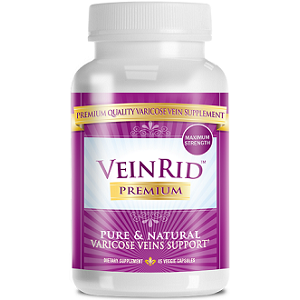 Premium Certified VeinRid - Does It Work?-Review
What is Premium Certified VeinRid?
Today we review the product VeinRid. This product is made specifically to aid and support the body's vascular health in order to prevent and provide relief from varicose veins. Not only can varicose veins be painful but they are often times also a bit unsightly which are more than enough reason to target the root of the problem in order to bring forth a long-lasting solution. The manufacturers of this product only incorporated natural ingredients into this product in order to improve circulation, reduce inflammation and provide pain relief the natural way when it comes to varicose veins. If you want to know if this product would be perfect for you, read the rest of our review below.
Ingredients & How It Works
Capsules:
Witch Hazel
Horse Chestnut Seed
Diosmin
Ginger Root
Hesperidin
Oat Straw
Butcher's Broom
Bilberry
Plantain
Rutin
Mullein Leaf
Red Root
Cayenne
Cream:
Petrolatum
Mineral Oil
Glycerin
Oat Extract
Lidocaine HCL
Butcher's Broom Extract
Aloe Vera Gel
Peppermint Oil
Witch Hazel
Marigold Extract
Clove Bud Oil
Bilberry Extract
Hesperidin
Vitamin K1
Rutin
Ginger Root Extract
Psyllium Husk
Melatonin
Diosmin
Vitamin E
This product is doctor-formulated and contains 13 important, natural ingredients that work together to support vein health. There are also no fillers, preservatives, binders or additives included in this product. Witch Hazel and Ginger Root have been proven to reduce inflammation and pain associated in varicose veins whilst also having anti-inflammatory properties. Horse Chestnut Seed and Diosmin reduced swelling in the legs and also supports healthy vein structure. Oat Straw and Butcher's Broom help to stimulate vasoconstriction and also helps to reduce cholesterol. Bilberry and Plantain helps to lessen the porousness of veins and helps to repair damaged tissue. Mullein Leaf reduces excess fluid and also helps to relieve pain in the legs.
Daily Serving
It is recommended that you take 6 capsules per day. If you want the best results possible then take two capsules 3 times per day. The soothing cream should ideally be applied up to 3 times per day to the affected area. If you are pregnant, nursing or suffering from a medical condition it is advisable to consult your doctor before using these products.
The Cost
You can buy this product as a cream or as a supplement directly from the manufacturer's website. You can also combine the two options when placing your order in order to ensure optimal results. One bottle will cost you $48, two bottles will cost you $30 each, four bottles will cost you $28 each and six bottles will cost you $23 each. If you decide to mix it up and place a mixed order of cream and supplements then you will still pay exactly the same price for the number of items ordered.
Guarantee
This product comes with 100% guarantee that is valid for up to 90 days. You can return any opened or unopened product and still receive your full refund.
Our Review Summary of VeinRid
We like that this product gives you the option of a cream and a supplement in order to maximize your varicose vein recovery. We also like that this guarantee policy covers you for 90 days and that you get such a wide variety of ordering options. This product also stands out in regards to being 100% natural and that it does not contain any artificial ingredients.
Well researched reviews, from the experts at Research & You.