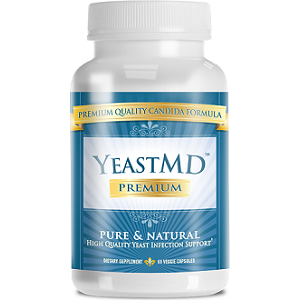 Premium Certified Yeast MD - Does It Work?-Review
What is Premium Certified Yeast MD?
Today we review Yeast MD which is being manufactured by Premium Certified. This product claims to work on multiple levels throughout the body to support, prevent and relieve the symptoms that accompanies yeast infections. This supplement works from inside the body on a cellular level in order to balance yeast and bacteria in the body. This product also incorporates 5 unique probiotic strains that actively fight off the re-occurrence of yeast infections. If you regularly struggle with yeast infections and you are looking for a supplement that can provide adequate support, then read the rest of this review below.
Ingredients & How It Works
Vitamin C
Vitamin B1
Vitamin B12
Vitamin B6
Bacillus coagulans
Bacillus subtilis
Enterococcus faecium
Bifidobacterium longum
Lactobacillus acidophilus
Calcium Undecylenate
Fructo-oligosaccharides
Vitamin B6 and Vitamin B2 helps the body to generate more energy to optimize cell growth and also acts as a powerful antioxidant that fights free radicals in the body. Vitamin B1 and Vitamin C helps to boost the immune system and also increase production of stomach acid which minimizes the growth of yeast. Fructo-oligosaccharides and Calcium Undecylenate acts as a prebiotic and supports the growth of healthy bacteria whilst relieving itching and burning sensations associated with fungal infections. All of the probiotics work together to produce lactic acid, which inhibits the growth of harmful bacteria. They also help to balance the flora and fauna in your body to help fend off yeast infections.
Daily Serving
It is recommended that you take two capsules per day, one in the morning and one at night. If you are pregnant, nursing or suffering from a serious medical condition then it would be best to speak to your healthcare provider before taking this supplement.
The Cost
You can order this product directly from the manufacturer's website for $48 per bottle. Three bottles will cost you $30 each, four bottles will cost you $28 each and six bottles will cost you $23 each. Every bottle contains 60 veggie capsules which will last you a whole month if you stick to the recommended dosage instructions.
Guarantee
This product comes with a full 90-day guarantee policy which claims to offer a full refund to anyone who is not satisfied with the results of this product. You are welcome to return your product opened or unopened within 90 days of delivery to claim your refund.
Our Review Summary of Yeast MD
We really like that this product incorporates 5 strains of unique probiotics and only natural ingredients to offer relief from yeast infections. We also like that you have 90 days to decide whether you like the product or not and that you have no risk of losing money if you don't. Price wise this product is also very economical if you buy in bulk and it is also very easy to order since you can find everything you need on the manufacturer's website. The fact that this product is also vegan-friendly is really inclusive and makes this product suitable to all customers.
Well researched reviews, from the experts at Research & You.