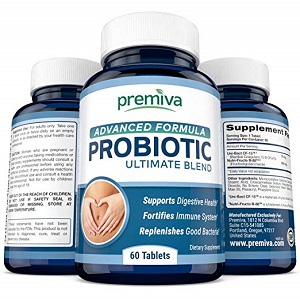 Premiva Advanced Formula Probiotic - Does it Work?-Review
What is Premiva Advanced Formula Probiotic Review
This is a review of Premiva Advanced Formula Probiotic, which is available in the form of a tablet which delivers a source of healthy bacteria to the digestive tract. A healthy digestive tract is where good health originates, as that is where the immune system is anchored in the body. The manufacturer prides themselves for releasing a product that is easy to use and aims to treat and prevent the nasty symptoms associated with IBS (Irritable Bowel Syndrome)
Ingredients & How it Works
Main Ingredients:
Bacillus Coagulans are the so often termed "good bacteria", and rightly so, as they are responsible for the optimization of digestive tract health, which benefits the body by strengthening the immune system, combating fatigue and allowing for energy production. Together with Fructooligosaccharides, which are just a form of naturally occurring indigestible carbohydrates, these ingredients work to bring stability and regularity to the digestive system.
We see that Bioperine could have been added to this blend to support the absorption of the good bacteria, another ingredient that could have been added to cleanse the colon is Psyllium Husk,

Other Ingredients:
Microcrystalline Cellulose
Dicalcium Phosphate
Stearic Acid
Croscarmellose Sodium
Magnesium Stearate
Silicon Dioxide
NS Enteric Clear
Deionized Water
Eastacryl 30D Kollicoat Mae 30
Plasacryl
Propylene Glycol
This long list of additives certainly is disappointing as it has the potential to contaminate the blend if not tested by third parties, however, the Eastacryl 30D Kollicoat encapsulation is a good option for slow release and vegan and vegetarian-friendly coatings.
Daily Serving
It is recommended that the product is administered while the stomach is empty, one tablet should be taken once or twice a day or as instructed by your doctor. Pregnant or nursing women should avoid the use of this product, as well as individuals who are under the age of 18 years. Those who are currently taking medications or any other supplements should first seek the guidance of a doctor before initiating the use of this product. Should this product cause any reactions, consult your doctor immediately and stop use.
The Cost
The manufacturer sells their product through online through their own website, where they offer promotions, as well as through third-party retailers, however, it seems currently out of stock and the product has not been supplied with a price.
Guarantee
The manufacturer protects their customers with a 60-day money-back guarantee, on receipt of valid customer information which will be submitted for eligibility. No information as to the condition the product may be returned in was supplied.
Our Review Summary of Premiva Advanced Formula Probiotic Review
In this review of Premiva Advanced Formula Probiotic, we have seen that this product offers a reasonable formula for the treatment of Irritable Bowel Syndrome, however, we have struggled to find aspects relating to this probiotic which would lead us to recommend this product. We have found negative reviews, a lack of clinically proven ingredients, a short guarantee as well as a long list of potentially dangerous additives. We would suggest that other probiotic products be looked into.
Well researched reviews, from the experts at Research & You.