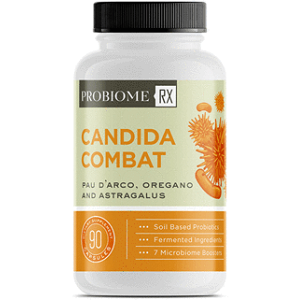 Probiome RX Candida Combat - Does It Work?-Review
What is Probiome RX Candida Combat?
Candida is a yeast that is found in your mucous membranes and skin. It is usually harmless but if it multiplies and grows out of control it can cause health problems like yeast infections and digestive problems. Candida can also release toxins that are absorbed through your gut and throughout your body. This review is going to take a closer look at Probiome RX Candida Combat. This product is a dietary supplement that is formulated with several ingredients in order to help support a healthy yeast and fungal balance and support healthy detoxification and cleansing. It contains prebiotics, probiotics, and enzymes along with synergistic herbs and mineral that will work with your body's natural digestive systems and help support a healthy fungal balance and gut health.
Ingredients & How It Works
Candida Balance Blend (Pau d'Arco, Oregano, Astragalus, Lysozyme, Cellulase, Hemicellulase) - 1000 mg

Tonic Mushroom, Micro Algae and Mineral Blend (Turkey Tail (trametes Versicolor), Spirulina, Blue-Green Algae, Chlorella, Himalayan Shilajit, Reishi, Shiitake, Maitake, Fermented Silver, Fermented Gold, Fermented Platinum) - 610 mg

Soil and Plant-based probiotic and prebiotic blend 10 billion CFU (Saccharomyces boulardii, Bacillus Clausii, Bacillus coagulans, Bacillus subtilis, Bacteriophage Blend) - 390 mg
Other Ingredients: Myceliated Organic Non-GMO Purple Corn.
The Tonic Mushroom blend supports healthy detoxification, gut health, and a healthy fungal balance. The blue-green algae alkalize foods that are good for you gut. The fermented, gold, silver and platinum support a healthy bacterial and fungal balance and are good sources of antioxidants.
Daily Serving
The manufacturer recommends taking three capsules one or more times daily with a glass of water or juice. This product is not intended for children. If you are pregnant, nursing or under medical supervision you should talk to your doctor before taking this supplement.
The Cost
You can purchase this product directly from the manufacturer and from third-party retailers. One 90 capsule bottle costs $41.95 on the manufacturer's website. The manufacturer offers several bulk purchasing options as follows: You can purchase a three-pack for $37.76 a bottle or a six-pack for $35.66 a bottle.
Guarantee
The manufacturer offers a 60-money back guarantee but does not say if their policy applies to both opened and unopened bottles.
Our Review Summary Of Probiome RX Candida Combat
Probiome RX Candida Combat product appears to be a promising tool that can help you to avoid developing yeast infections and other health problems that are caused by a yeast imbalance. It comes in easy to take capsules and contains a blend of ingredients that work together in order to achieve a healthy balance in your system. However, the consumer feedback we saw is mixed. Some consumers claimed that this product worked for them but many consumers reported that this supplement does not work. Users reported that after continuously taking this supplement as instructed by the manufacturer, they continued to get yeast infections. This supplement is also expensive relative to other similar supplements we have seen on the market. If you follow the manufacturer's dosage recommendation one bottle can last you only two weeks or less. Taking these factors into consideration, you are better off purchasing a supplement with effective ingredients and positive consumer feedback.
Well researched reviews, from the experts at Research & You.